The Nikon Nikkor 200-400mm f/4G ED VR II lens is now listed as discontinued at B&H Photo and it is not available for sale at Adorama and Amazon: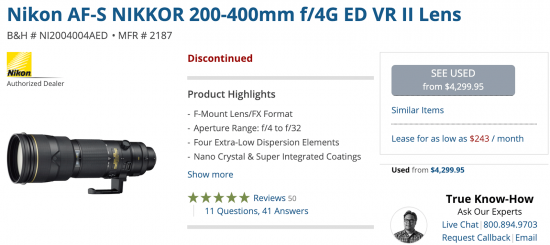 Adorama is selling a refurbished 200-400mm f/4G VR II lens for $5,495 ($1,501.95 or 21% off).
The 200-400mm f/4G VR II lens was announced in April 2010 and in January 2018 was replaced by the Nikkor 180-400mm f/4E TC 1.4 FL ED VR lens (see reviews). The new 180mm-400mm is now in stock at Adorama, B&H and Amazon.
Thanks ZoetMB!