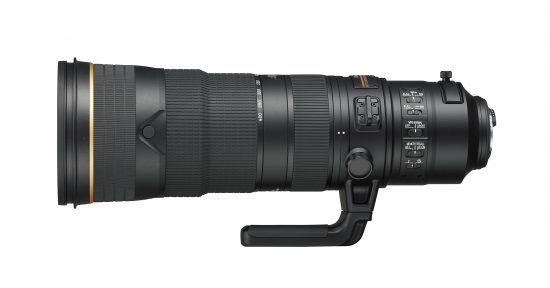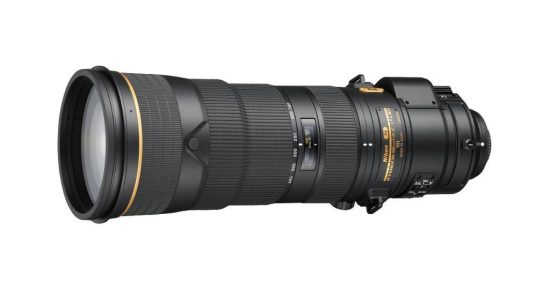 The previously rumored Nikon AF-S NIKKOR 180-400mm f/4E TC 1.4 FL ED VR full frame DSLR lens is now officially announced with Nikon's first built-in teleconverter. The US price is $12,399.95, UK price is £10,999. Pre-orders are now open at B&H, Amazon and Adorama.
The new HK-41 lens hood for the 180-400mm is priced at $579, while the LC-K103 lens cap is $64.95, so don't lose them.
Primary features:
Super-telephoto zoom lens with coverage of a broad range of focal lengths beginning at 180 mm and extending to 560 mm when the built-in 1.4x teleconverter is used
Built-in 1.4x teleconverter which can easily be activated/deactivated while looking through the viewfinder:
Tripod collar ring that enables smooth switching between horizontal and vertical orientation
Zoom ring that is easily operated while holding onto the tripod collar
Adoption of a fluorite lens element and magnesium alloy has achieved a light weight of approximately 3,500 g/7 lb 11.4 oz
Dust- and drip-resistant structure that prevents dust and drops of water from entering the lens
Nikon's exclusive highly durable fluorine coat that effectively repels dust, water droplets, grease, and dirt
The latest optical design that includes the use of one fluorite lens element and eight ED glass elements for extremely sharp and detailed rendering that is compatible with high-pixel-count digital cameras
The latest optical design and the use of Nano Crystal Coat enable clear images in which ghost and flare are effectively suppressed
High maximum reproduction ratios with close-up shooting at telephoto positions (0.25x when the built-in teleconverter is not used, 0.36x when activated)
The exclusive design of this lens with a built-in teleconverter ensures optimal optical and AF performance
Electromagnetic diaphragm mechanism that enables stable exposure control
The VR mechanism offers camera shake compensation equivalent to a 4.0-stop increase in shutter speed in NORMAL mode; users can choose from NORMAL and SPORT modes: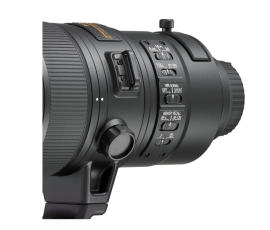 Sample photos:
Lens design (without and with TC), weather sealing, MTF charts (click for larger view), technical specifications and full press release:
Mount Type: Type E AF-S lens with built-in CPU and F mount (1.4x TC built-in)
Focal Length Range: 180 – 400 mm With built-in TC 252-560 mm
Zoom Ratio: 2.2 x
Maximum Aperture: f/ 4 With built-in TC f/5.6
Minimum Aperture: f/ 32 With built-in TC f/45
Format: FX/35mm
Maximum Angle of View (DX-format): 9°
Minimum Angle of View (DX-format): 4°
Maximum Angle of View (DX-format) with built-in Teleconverter: 6°20′
Minimum Angle of View (DX-format) with built-in Teleconverter: 2°50′
Maximum Angle of View (FX-format): 13°40′
Minimum Angle of View (FX-format): 6°10′
Maximum Angle of View (FX-format) with built-in Teleconverter: 9°50′
Minimum Angle of View (FX-format) with built-in Teleconverter: 4°30′
Maximum Reproduction Ratio: 0.25x (at 400 mm)  0.36x (at 560 mm)
Lens Elements: 27
Built-in Teleconverter Lens Elements: 8
Lens Groups: 19
Built-in Teleconverter Lens Groups: 5
Compatible Format(s): FX DX
VR (Vibration Reduction) Image Stabilization: Yes
Diaphragm Blades: 9
Distance Information: Yes
Nano Crystal Coat: Yes
ED Glass Elements: 8
Fluorite Elements: 1
Fluorine Coat: Yes
Super Integrated Coating: Yes
Autofocus: Yes
AF-S (Silent Wave Motor): Yes
Internal Focusing: Yes
Minimum Focus Distance: 6.6 ft. (2.0 m) from focal plane
Focus Mode: Manual, Manual/Auto, Auto/Manual
E-type: Yes
Filter Size: 40.5 mm
Accepts Filter Type: Drop-in filter
Compatible with Nikon AF-S Teleconverters: Yes
Approx. Dimensions (Diameter x Length): 5.0  in. (128.0  mm)  x  14.2  in. (362.5  mm)
Approx. Weight: 123.4  oz. (3,500  g)
Nikon Announces New AF-S NIKKOR 180-400mm F/4E TC1.4 FL ED VR Super Telephoto Zoom Lens at CES 2018
LAS VEGAS – Today at the Consumer Electronics Show (CES), Nikon Inc. announced the new AF-S NIKKOR 180-400mm f/4E TC1.4 FL ED VR super-telephoto zoom lens, which is ideally suited for photographing sports and wildlife with astounding speed and clarity. This professional level FX-format lens is more versatile than ever, and has been updated with the newest NIKKOR lens technologies including Nikon's first ever built-in teleconverter and an advanced optical formula to enhance performance and minimize weight."This lens is a great example of how Nikon continues to push the boundaries of innovation and what's possible with pro-level optics and high-end imaging equipment," said Kosuke Kawaura, Director of Marketing and Planning, Nikon Inc.
Popular Pro-Level Lens Gets Even More Versatile
This new NIKKOR lens is a professional super-telephoto zoom lens, which is even more versatile with an extended wide range of 180-400mm, and a constant f/4 aperture to easily isolate a subject from the sidelines, even in challenging light. This is also the first NIKKOR lens to include a built-in 1.4X teleconverter, allowing photographers to seamlessly swap to a 252-560mm1 (FX-format) focal range. The teleconverter is engaged at the flick of a switch, and is easily operated with a single finger while looking through the viewfinder. When used on the Nikon D500 and other DX-format DSLRs, the focal length is the equivalent of 270-600mm (378-840mm with teleconverter engaged).
Whether capturing fast-moving winter sports on the slopes or elusive wildlife at a distance, photographers can shoot with confidence from this high performance NIKKOR lens.  The new 180-400mm f/4 is optimized for high-speed capture, and features an electromagnetic diaphragm, helping to create smooth and consistent exposures while shooting high-speed bursts of images. What's more, the AF tracking algorithm controlling the motor drive has been enhanced to increase tracking performance of fast moving subjects. When using cameras equipped with Nikon's advanced 153-point AF system (D5, D500, D850), the outer row of AF points are activated as cross-type sensors to significantly enhance the AF coverage throughout the frame.2
Enhanced Performance with the Addition of New Technology
The lens now uses a fluorite element, which contributes to improved balance while minimizing weight. To further enhance handling and agility, the lens has adopted a new ball-bearing tripod collar ring to create a seamless transition from shooting horizontal to vertical composition.  The VR mechanism offers a normal and sports mode, with up to four stops3 of compensation to help create sharp images, even when handheld.
The lens construction includes the use of durable magnesium alloy for weight reduction, while the lens is also sealed against dust and moisture. A fluorine coating is also used to help repel water droplets and dirt.
The optical formula of the lens uses eight Extra Low Dispersion (ED) elements, doubling the amount of ED elements used by its predecessor, the NIKKOR 200-400mm. These help to provide extremely sharp and detailed images and 4K UHD / 1080p video, and is ideally mated to high resolution Nikon DSLR cameras.  Nikon's exclusive Nano Crystal Coat is used to effectively suppress instances of ghosting and flare.
Price and Availability
The AF-S NIKKOR 180-400mm f/4E TC1.4 FL ED VR lens will be available in March 2018 for a suggested retail price of $12,399.954. For more information on this NIKKOR lens and other Nikon products, please visit www.nikonusa.com.
1. When the built-in or an external teleconverter is used, the focal length may not be displayed correctly in shooting information / Image data.
2. This feature will be available with a firmware upgrade for the D5, D850 and D500 at a later date.
3. Based on CIPA Standard. This value is achieved when FX-format compatible lenses are attached to a FX-format digital SLR camera and zoom lenses are set at the maximum telephoto position.
4. SRP (Suggested Retail Price) listed only as a suggestion. Actual prices are set by dealers and are subject to change at any time.