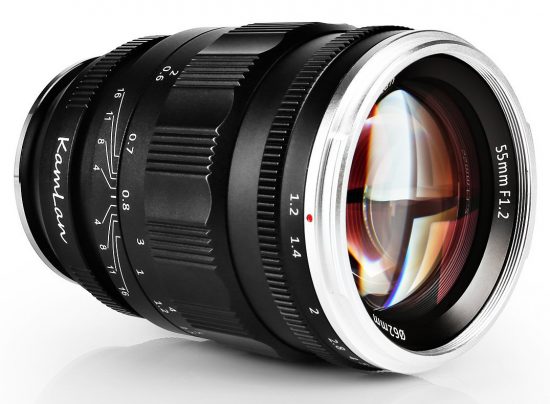 The Taiwanese company Sainsonic plans to launch their first Kamlan branded full-frame mirrorless lenses for Z-mount next year  – they already have the Kamlan 55mm f/1.2 full frame mirrorless lens for Sony E-mount (pictured above – more info on that lens is available here):
"In the interview with the Taipei Photographic Equipment Exhibition, I accidentally shook this booth. A lens brand I have never seen before, after chatting with the boss, I realized that this is a lens brand from Taiwan. From optical technology, lens to lens design and assembly, all are made by Kamlan. Independently completed, because Kamlan's current factory is located in China, many people will mistakenly think that this is a Chinese brand. In fact, the boss behind it is a native of Yilan. Next year, it will set up a factory in Yilan Science Park to supply the needs of Japanese and Taiwanese consumers. Kamlan focuses on the lens of the APS-C mirrorless interchangeable camera. In the future, it will launch the "full-frame" MILC lens. The target includes FE-Mount, Z-mount and RF-Mount, and will be edited in the future. This brand will be further introduced." (Google translation)
Kamlan lenses are sold at Amazon and eBay.
Source: Mobile01, via PhotoRumors