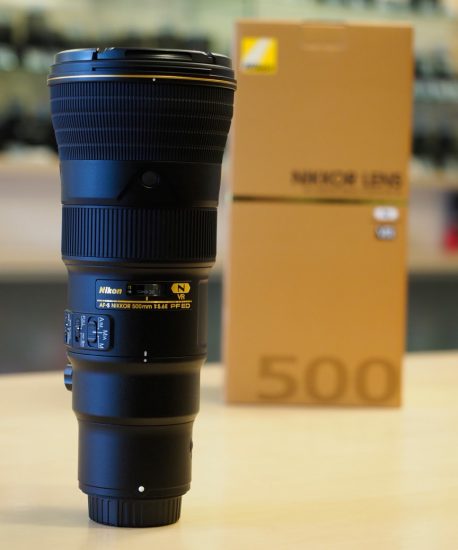 Here is a quick Nikon AF-S NIKKOR 500mm f/5.6E PF ED VR lens review by Axel Güthner:
The reputation of 300mm PF lens is top, therefore I was curious about this new AF-S 500mm F5,6 PF lens. I was always looking for a long telephoto lens suitable for travel purpose. I own a 200-400mm VR II lens, but for family holidays, it's just too big to carry all day long. The 70-300mm VR lens has not enough reach.
All the above reasons have driven me to order the 500mm lens.
I was surprised that my dealer (Foto Gregor, Cologne, Germany) had this lens in stock, so I didn't wait and ordered it immediately. Two days later, I could unpack it and it is really small, just a little bigger than my 70-200mm f/2,8 VR II. Very easy handholdable and VR is impressive, the viewfinder image becomes absolute stable after half-press the shutter release button.
To give it a first "wildlife" test, I headed to the Munich zoo "Tiergarten Hellabrunn". In my bag was the D4 with mounted 500mm PF, the AF 200mm Micro and the 35mm f/1,4 (which I didn't use at all). I also had both TC14E and TC20E for testing purpose.
Build quality is top, no play in the manual focus ring, perfect damping. I like the "memory recall" function or AF lock with the buttons on the lens. The plastic lens hood is locked, same as on 70-200mm, I have no concerns regarding stability.
The 500mm lens is easy to carry, no need for special support. I took all images handheld. I never used the monopod, which is a must for the 200-400mm zoom lens. The combination D4 and 500mm can easily hand on the shoulder strap.
I used low shutter speeds down to 1/30s and I got quite a lot of keepers. VR seems to be good, as I know it from other modern Nikon lenses.
AF is really quick, but sometimes gets confused by fences or other obstacles. I think this is normal.
With TC14E, AF is still ok, but the limitation to a center point will make it difficult for flying birds (not a lens problem). With TC20E, AF is not working at all.
I never had any issues with flare, but I didn't force the lens to do so (no directing the lens into light sources)
For the zoo, the focal length 500mm often is too long, a zoom lens will give more possibilities. In the field, reach cannot be long enough.
To summarize above, the 500mm PF will come with me to all my future holiday trips, but for a local photo excursion, I may prefer my 200-400mm, just because it's a zoom and therefore more flexible. If maximum reach at low weight counts, the 500mm PF is a no-brainer.
I was searching for a tripod foot replacement. The foot mounting is similar to the one found on 70-200mm f/2,8 VR II, therefore I gave it a try. The foot can fit, but not perfectly. The Kiwi KF-78 and Mengs NF-200 are a better solution: both are too long at the coupling, but the attachment is stable, it's just a cosmetic mismatch. I will probably keep the original foot with an Arca baseplate attached, but this is not finally decided yet.
Original foot: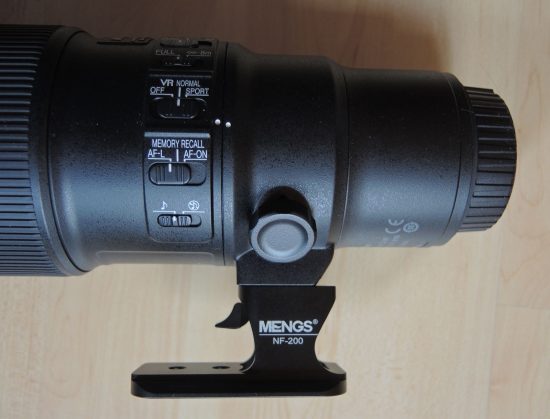 All pictures are unedited JPG, out of the camera, including EXIF data:
I am a daily follower, I love your page. Most of your rumors come true. Thanks for this reliable source of information.
---