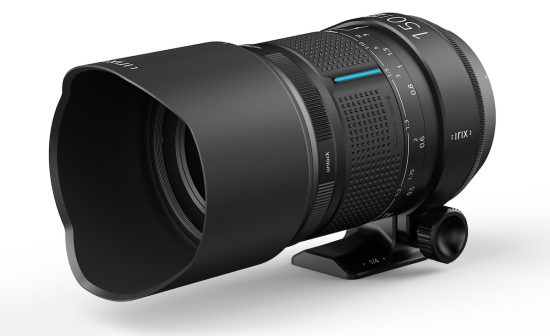 The previously rumored Irix 150mm f/2.8 MACRO 1:1 lens was just officially announced. Here are the MTF chart, distortion graph, technical specifications and press release:
Compatible sensor size
35mm "Full Frame" and smaller
Focal length
150 mm
Maximum aperture
F2.8
Field of view
160 (diagonal)
Range of focus
0.345 m (0.92 ft) – ∞
Focus setup
manual
Focus ring rotation angle
270 degrees
Magnification ratio
1:1
Minimum focusing distance
0.345m
Aperture range
f/2.8 – f/32
Aperture control
via camera
Number of diaphragm blades
11 rounded aperturę blades
Lens construction
12 elements in 9 groups (4x HR, 3x ED)
Filter size
φ77 mm
Weight
840g
Corresponding Mounts
Canon EF, Nikon F, Pentax K
Dimensions
87 x 135 mm (without tripod collar and lens hood)
Lens hood
Detachable
Additional features
Focus Lock ring
Detachable tripod collar
Sealings
Front element (1 O-ring)
Focus Lock ring + Focusing ring (3 O-rings)
Bayonet mount (1 O-ring)
Press release:
Macro telephoto lens: no compromises, no restrictions The Irix 150mm f/2.8 MACRO 1:1
IRIX, a European brand already known for its high-quality wide-angle lenses (Irix 11mm f/4.0, Irix 15mm f/2.4) and photographic filter systems is expanding its portfolio with a new lens – the Irix 150mm f/2.8 Macro 1:1, designed for full frame cameras with the Nikon F, Canon EF, and Pentax K mount.
With its focal length of 150mm and 1:1 scale of reproduction, these are the basic features of the new product that allows comfort working with small objects. Thanks to the possibility of being able to move away from the photographed object, this makes the operation more convenient than using lenses with a shorter focal length. No shadows are cast on the object and it is also possible to use lamps dedicated to this type of photography.
The Irix 150mm f/2.8 Macro 1:1 lens is equipped with an aperture mechanism consisting of 11 rounded blades that maintain a circular shape within the entire available working range. Thanks to this, when shooting with a wide open aperture, a pleasant background blur is obtained; when closed right down, the diffraction appears much later. This ensures much greater detail of the image.
The focus ring has been equipped with a wide rubber handle with a special convexity pressing. To facilitate precise focusing of the scale, with 270 degree rotation. The whole design is complemented by a functional Focus Lock ring that allows you to lock the focus ring at a convenient position.
The Irix 150mm f / 2.8 Macro 1:1 lens has been sealed in key points (the front element, the Focus Lock ring, the focusing ring and bayonet), making it suitable for use in the harshest of weather conditions such as fog, rain or snow.
The optical design consists of twelve elements – three of which are made of super-low dispersion glass (ED), another four of glass with a higher refractive index (HR), and the whole arranged into nine optical groups. Thanks to this construction, we obtain an close to zero distortion (at a level of 0.1%).
The Irix 150mm f/2.8 Macro 1:1 lens is equipped with an internal focusing system (IF) so that the lens does not change its dimensions when focusing, thus maintaining a compact size and better sealing.
The Irix 150mm f / 2.8 Macro 1:1 lens is the first model available in the new version with the Dragonfly finish, in which the aluminium frame has been enclosed in an external structure made of aluminium-magnesium alloys and composite elements. The combination of Firefly and Blackstone features gave the lens lightness and solidity while maintaining high mechanical strength and resistance in difficult weather conditions.
The lens has a CPU that allows control of the lens aperture from camera level, and the AE module allows the use of semi-automatic modes (PASM). This solution allows the user to get confirmation of the focus from the camera. An additional benefit is the recording of exposure data in the EXIT format.
A set with the lens will include:
 a practical deep lens hood that isolates the lens from sidelight sources and also protects the front element of the lens from minor damage
 a rigid lens case for safe transport and storage
 a detachable tripod collar (Arca Swiss standard), allowing you to transfer the weight that is the centre of gravity to the front and securely place the camera on a tripod.
Information on availability and prices will be provided at a later date. At the same time, we would like to invite all interested parties to visit the Irix stand during the Photokina 2018 fair in Cologne.
You can find us at hall 4.2, stand D030 where the lens will be made available to a wide audience.
Sample photo:

Irix lenses are sold at Amazon US | Amazon UK | Amazon DE | Amazon FR | Amazon IT.