Tests carried out in accordance with ISO standard 15739, show that the dynamic range of the Nikon Z7 is better than the D850.
At ISO 64, the Z7 captures 2822 line pairs per picture height (LP/PH), 103 percent of the theoretical maximum.
In comparISO n, the Nikon D850 captured 2591 LP/PH at ISO 64 – 94 percent of the theoretical maximum.
At the higher ISO of 12800, DR is 7.5 f-stops, declining to 7.0 at ISO 25600.
The Nikon D850 showed a dynamic range between 8.6 and 8.9 at between ISOs ranging from ISO 64 to ISO 3200 (PDNonline).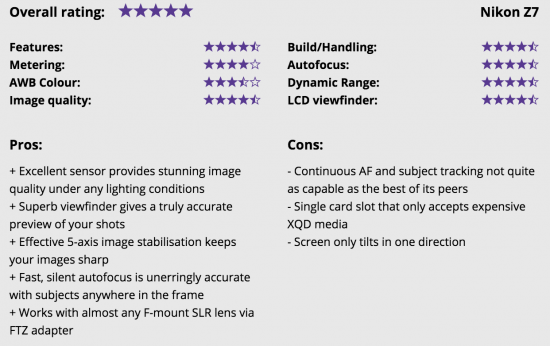 But how does the Z 7 measure up to its full-frame mirrorless peers? I'm a big fan of Sony's superb A7R III, but on balance I think the Z 7 is even better in many respects, thanks to its superb handling. There are areas where the Sony is still ahead, most obviously its superior continuous autofocus and tracking, along with the inclusion of two memory card slots. But not every photographer needs these features, and the Z 7 delivers image quality that's every bit as good at the A7R III while being distinctly more pleasant to use. (Amateurphotographer)
Another pros and cons from gearopen.com:
PROS:
+ Excellent sensor provides stunning image quality under any lighting conditions
+ Superb viewfinder gives a truly accurate preview of your shots
+ Effective 5-axis image stabilisation keeps your images sharp
+ Fast, silent autofocus is unerringly accurate with subjects anywhere in the frame
+ Works with almost any F-mount SLR lens via FTZ adapter
CONS:
– Continuous AF and subject tracking not quite as capable as the best of its peers
– Single card slot that only accepts expensive XQD media
– Screen only tilts in one direction

Nikon Z7 ISO test by Lesnumeriques (see also AF test).
Next, Niko Z7 pros and cons from Prophotos (Google translation):
Pros:
High image quality at ISO up to 12,800 for both cameras;

wide dynamic range;

very high-resolution matrix from the Nikon Z7;

effective built-in stabilizer;

speed of continuous shooting for 12 frames / s for Nikon Z6 and up to 9 frames / s for Nikon Z7;

confident and fast phase autofocus on the matrix;

A mirror-like ergonomics;

thoughtful and conservative interface;

full touch control;

silent mode of operation;

4K-video without copying;

slow Full HD video;

well-developed wireless capabilities;

excellent electronic viewfinder;

high-quality inclined high-resolution touchscreen;

Compatibility with optics F via FTZ adapter;

the prospects of creating superlight luminous optics for the Z-bayonet;

dust and moisture protection.
Cons:
less battery life compared to DSLRs;

proprietary format of XQD memory cards;

tracking AF in difficult conditions can lose an object;

there is no autofocus on the eyes;

video recording in 10-bit N-Log is possible only on external media.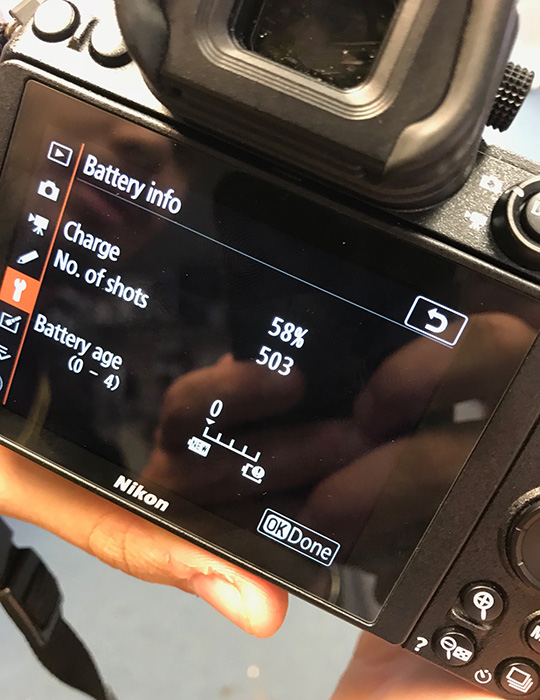 About that Nikon Z7 battery life: 58% left after 503 shots (thanks Alessandro Abate).
Dpreview updated their Nikon Z7 photos with full-production samples.
The latest Nikon Z7 videos:
More reviews and additional Nikon Z7 coverage can be found at the new Nikon Z Facebook page and at the Nikon Z Facebook group.
Nikon Z pre-order links: