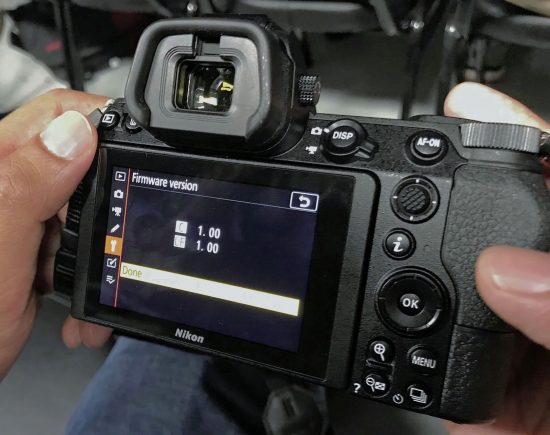 Here is a Nikon Z7 hands-on report from a reader:
So the event took place at PROCAM in Aurora, IL.
So they only had 2 or 3 bodies, and about 70-80 people showed up. I grabbed it during the presentation and played with it, and while trying to figure out how to enable Face Tracking the rep asked if I was done so I quickly handed it back. Once the presentation was over everyone flocked over. Since I already played with it I didn't want to take time away from others. The presentation went on from 7:15p to 8:45p! Not very good time management, I don't think it was supposed to go that long. The whole event was supposed to be 7-9p.
So it's pretty small and compact but with a very comfortable grip. Room for all fingers on the grip. The FN buttons weren't hard to reach at all. The 35/1.8S that was mounted on it focused very quickly. It's tack sharp wide open. The focus ring feel is okay, but feels "dead" since it's not mechanical. But still not bad for manual focusing. The room wasn't well lit, and I pointed it in the dark parts of the room and it nailed focus everytime. The ceiling was all black, and had some red cables hanging from it (can be seen in the pic with two bald guys in the top left). I focused on them and it was spot on. All wide open. As DPR reported, before taking a shot the lens aperture physically stopped down up to f/5.6 but not past that. I took a couple shots at f/5.6, focus nailed. Couldn't really tell a difference in sharpness vs f/1.8, which says a lot. The EVF is very nice. First time looking through one and it felt very natural. Didn't take long to forget I was looking through one. The FTZ adapter isn't as big as it looks in pics/videos. It's made in Japan. The flip screen is sturdy, and the touch function is very smooth and quick. No problem with pinch to zoom. Double tapping zooms in 1:1. Touchscreen for focusing worked flawlessly. Buttons and ergonomics high quality. The camera is light. The AF-ON button should've been where the DISP button is. That's where my thumb naturally landed. But I could still hit AF-ON with the "bottom" of my thumb, so to speak.
The 24-70/4S felt good in the hand. Didn't get a chance to shoot with it. Jared Polin said it felt cheap, I disagree. It was sturdy with a nice weight to it. It collapses too. It extends as you set it to 24mm, and continues as you go to 70mm. Even fully extended it's still compact.
Not a lot of young people in the crowd, mostly older. Any kids present were really young and with their parents. Several amateurish questions. Found that to be interesting.
The single slot issue was also brought up, but the presenter pretty much repeated what's already been said – done to keep size small, he has a D850 and only uses XQD slot because it's very fast, if you use XQD+SD the speed is only as fast as the SD card, lock switch on SD card can break and become a hassle, XQD realiable and he never had a card fail, Lexar rep told him life expectancy 2-3 years so they should be replaced regularly.
Wish I could've done more, but so far my overall impression was very positive.
Update: I asked the rep about the bundled XQD card mentioned in the DigitalCameraWorld interview and they said they had not heard about it. He asked me which Nikon Senior Marketing Manager said that, and after checking we realized he was representing Europe. So the rep said that it must be region specific. He didn't outright say it won't be bundled, but indirectly said that. They brought up the $100 "rebate" on the FTZ adapter if you buy it with the camera, which is a standard offer anyway.
One other thing (sorry I'm remembering as time passes), the shutter was very soft, gentle and quiet. Definitely more so than my D750 which makes a racket in comparison.
Thanks a5m!
Like: Nikon Z Facebook page | Join: Nikon Z Facebook group