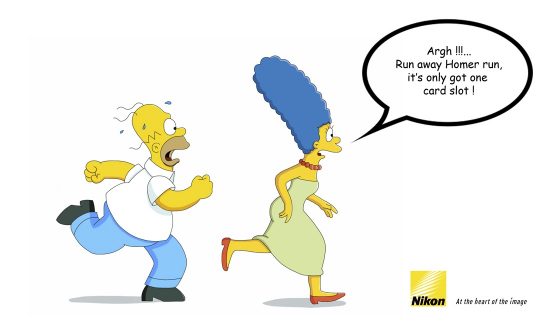 Here is a guest post from an anonymous reader who actually handled the new Nikon Z7 mirrorless cameras:
The video you put up on the Sony fanboy is spot on about the Z bodies still being in development. The next issue is why Nikon did not focus on the image quality advantages? This camera creates images as good if not better than the D850. That should have been the big pitch coupled with its possibilities day one because of the Z mount and a back catalog of over 300 lenses that will work from day one on it with no image loss.
Trust me on this, the image quality with that new sensor is amazing. This has got lost in Nikon's failed marketing and letting people get hung up on that one memory card slot issue.
Honestly, I have over 30 XQD cards and have been using them since the D4S. NOT ONE FAILURE EVER. They have been in the deserts of Namibia, the ice fields of Iceland and the rainforests of Africa and Asia.
I have shot everything in conditions of over 105 degrees to minus 30. Sand, salt water, humidity and rain storms. Not one issue with an XQD card. Yet the crappy SD cards do fail. I had 4 fail on me in the past few years. Download speeds from XQD to my Mac is 75% faster than SD despite getting the fastest SD cards. Even the old XQD 1440's from Lexar were 60% faster in saving images to my Mac using a card reader.
What happened when people used film years ago or used the first digital cameras? They only had one hit and if the film failed due to camera/user/ film developer errors they always had another camera with other film to rely on. Yes, how many actual professional shooters only take one body to a wedding shot? The issue is a lot of so-called wedding shooters are Pro-Ams and not really professional. They only bring one camera along to the wedding and only use SD cards because they are cheap. Seen it so many times when I am there as a wedding guest. How many current D850 users are just using the SD card slot and not using then XQD slot for back up or at all. Most I would say. Yet the same people are moaning about not having a second slot they never use themselves.
The adaptor for F mount lenses is one of its best features that has been lost with some. There is no degradation in quality and even allows 3rd party lenses to work on it. Yet one blogger who will remain nameless thinks its an issue that D lenses do not work unless used as manual. Really… your worried a D type lens launched over 25 years ago is not fully auto with the system? Complete idiot. Social media is the big issue when people tune in to listen to his rants about lack of quality yet we never see any of his work. Where are his images? What does this guy actually know about taking pictures anyway as I have seen nothing. He makes reviews and fails to show any images in his reviews and rants.
The Z7 will be in my kit bag and will be an addition to my D850 and D5. The reason? The Z7 uses all my F mount lenses and I do not need two lens types with me.
Your right. Nikon screwed themselves with the wrong message in marketing. Photography is about taking fantastic pictures and getting the best image possible. It's art. Most of the commentators on your site don't see that and are stuck on numbers and features. Many won't even buy this camera as they can't afford it so they shoot it down and are joined by the trolls paid for by other manufacturers to discredit Nikon and their quality. The same idiots that said just a year ago that Nikon should at least get some sort of mirrorless body out on the market and never believed they would do it.
It is not a big fail to have one card slot as the XQD card has as much chance of failing as your actual camera. Two cards slots are not going to help you if your camera fails and that is why I always have multiple bodies with me.
This is a remarkable camera and really the only issue is buffering speed. People have not focused on that as its drawback. The processor is not quick enough. But I don't need buffering speeds to capture a great picture, I need great glass and most of all a great sensor. That is the sad thing about all of this. The camera takes and makes great pictures. One card slot and not using the Sony patented eye focus system does not make this a fail. It truly is a great camera. The message was lost with poor marketing and Nikon not controlling their PR.
Start with the looks of the Z vs the A7. Its' a prettier camera, Then focus on the image quality. It has a better sensor than the Sony, creates images to the quality of some medium format cameras, is future-proofed with the Z mount, supported with some of the best glass (F mount lenses) in the industry and what that glass brings and has a back catalogue of over 300 lenses that work with it out of the box. Win, win win all around. No, they decide at Nikon to have a dancer with props and a cocktail waiter to show off the fact the autofocus system is not finished and is currently sub standard. What idiot does that? Focus on the image quality.
I have used the Z7. The image quality is amazing. Is that not what any shooter just wants, the best image he/she can create and in the case of Nikon users, not make your current kit redundant. That should be the message to all Nikon owners not a stupid Mirrorless Reinvented strap line showing off unfinished autofocus issues and not hyping the reliability of the XQD. Make the negative a positive. They failed on this big time. The camera is lost in its poor PR and marketing. Its ability to actually take amazing images that are as good if not better the D850 has not been messaged clearly by Nikon, which is why the trolls are having a field day.
Graphics: Broxibear