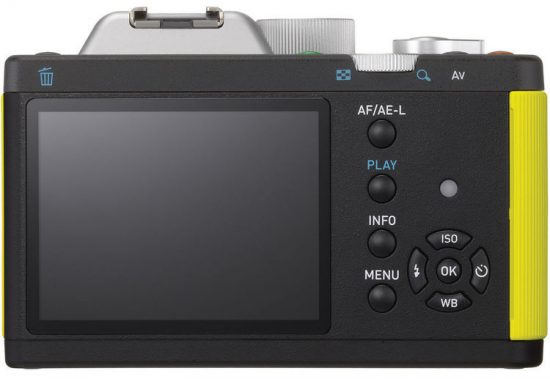 I have now received tips from two different sources about a potential Nikon D3400 camera replacement coming soon. Here is the previous D3xxx refresh timeline:
The Nikon D3400 was announced in August 2016
The Nikon D3300 was announced in January 2014
The Nikon D3200 was announced in April 2012
We already have a new Nikon camera registered under the code name N1718 that is expected to have the same radio part as the D3400 with only Bluetooth (no Wi-Fi).
This is where it gets interesting – one tipster suggested that the new Nikon D3500 (D3600?) will be announced around Photokina and it will have a grip similar to the D5500/D5600. Another tipster told me today that the Nikon D3400 will be replaced by a mirrorless camera with F-mount – something like the Pentax K-01 from 2012 (see pictures above). There could be several benefits for Nikon if that last rumor about a cheap mirrorless camera with F-mount is true:
They can claim to have a DX mirrorless camera and join the mirrorless hype without much effort.
No need to develop new lenses (the new DX AF-P lenses have stepping motors in them). A new pancake would still be nice.
Cheaper to produce (are we actually sure that an EVF is cheaper than the floppy mirror and the pentaprism? Has anyone seen any cost comparisons?)
Nikon could make the camera even smaller – take a look at the Pentax K-10 from 2012 compared to the Sony a6500 – one of the smaller APS-C mirrorless camera available today (via camersize.com):


And another one – Pentax K-01 vs. Fuji X-T100:


For now, I cannot confirm any of the above rumors and I am posting this more as a reference since many readers have asked me about a potential Nikon mirrorless APS-C camera. I just don't see how Nikon can put the enormous Z-mount on a small APS-C mirrorless camera.
---
Like: Nikon Mirrorless Facebook page | Join: Nikon Mirrorless Facebook group