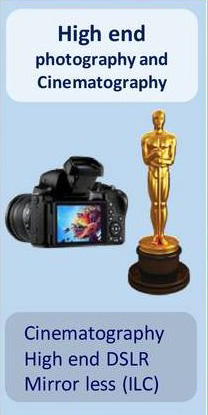 Since the Nikon D850 was announced, some speculation started here in the comment section of the [NR] blog that the D850 sensor was manufactured by the Israeli company TowerJazz. In November last year the CEO of TowerJazz said that "In the digital SLR market we engage with one of the leaders in the world in the development of their next-generation sensors."
At one point Panasonic was considering to unload their shares of TowerJazz.
TowerJazz Semiconductor recently released some additional details on their foundry's image sensor business – they are working on a new full frame sensors with global shutter (cough-cough-nikon-mirrorless):
"For CMOS image sensor we use the 300 millimeter 65 nanometer capability to develop unique high dynamic range and extremely high sensitivity pixels with very low dark current for the high-end digital SLR and cinematography and broadcasting markets.
In these developments, we've included are fab 2 stitching technology to enable large full frame sensors. In addition, we developed a unique family of global shutter state-of-the-art pixels ranging from 3.6 micron down to 2.5 micron to note the smallest in the world with extremely high-shutter efficiency using the unique dual light pipe technology already developed at TPS Go for high quantum efficiency and high image uniformity.
And lastly within the CIS regime, we've pushed the limits of our x-ray dye size developing a one dye per wafer x-ray stitch sensor to produce a 300 millimeter a 21 cm x 21 cm imager. All of the above technologies have been or are being implemented in our CIS customers next generation products and are ramping or are plan to begin ramping this year with some additional next year.
Our Image sensor end markets including medical, machine vision, digital SLR camera, cinematography and security among others represented about 15% of our corporate revenues or $210 million and provided the highest margins in the company. We are offering the most advanced global shutter pixel for industrial sensor market with a 2.8 micron global shutter pixel on 110 nanometer platform. The smallest global shutter pixel in the world already in manufacturing. Additionally, as mentioned we have a 2.5 micron state of the art global shutter pixel in development at 65 nanometer, 300 platforms with several leading customers allowing high sensor resolution for any given sensor size enabling TowerJazz to further grow its market leadership.
We also offer single photon avalanche diode which is state of the art technology and ultra fact global shutter pixel for automotive radars based on time of flight principle, answering automotive market needs. We have engaged with several customers in the development of their automotive radar and expect to be a major player in this market in the coming future.
During 2017, we announced a partnership with Yuanchen Microelectronics for backside illumination manufacturing in Changchun China that provide us the BSI process segment for CIS 8 inch wafer manufactured by TowerJazz to increase our service to our worldwide customer base in mass production. So I will be ready for this mass production early second half of this year with multiple customers already having started their product designs.
In addition, we developed backside illumination and stack way for technology on 12 inch wafers in the Uozu factory serving as a next generation platform for high end photography and high end security market. We now offer both BSI and column level stack wafer PDKs to our customers.
We are investing today in three main directions. Next generation global shutter technology for industrial sensor market. Backside illumination stack wafers for the high end photography market and special pixel technology for the automotive market."