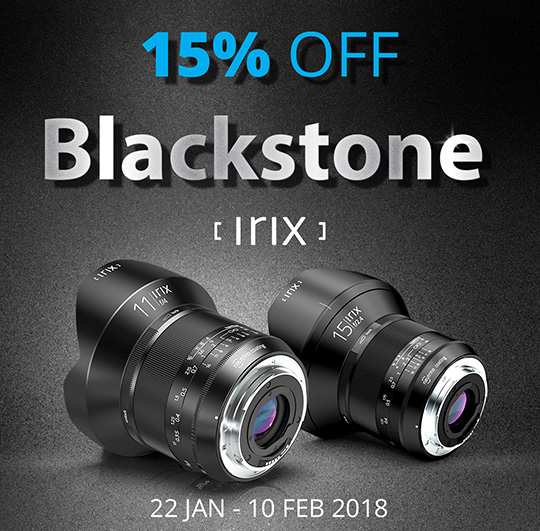 Irix has a new special offer in Europe and the US on their wide angle lenses – 15% off the Irix 11mm & 15mm Blackstone lenses for Nikon F-mount:
Update: in Europe only some stores are offering the 15% discount (with free shipping):
Some readers also got 70% off offer from Amazon US (see the screenshots below, update – the 70% off discount was a mistake):
This offer is valid until February 10th. Here is the press release:
Irix: the closest yet to a Premium lens

If you were thinking of buying an Irix 11mm & 15mm lens Blackstone version between 22 January and 10 February 2018, then there's a great opportunity to do so! We have a fantastic special offer at the end of this month which allows you to get hold of a Black- stone with a 15% reduction in price! It means that you can get our luxurious version for a similar price to a Firefly lens. Blackstone, in turn, gives you a number of useful options:

Aluminium internal construction and magnesium housing with anti-scratch finish, thanks to which you can be sure that your equipment won't let you down even in the most extreme conditions
High class engraved markings covered with UV light reactive paint, which allows you to use the lens precisely even during your night expeditions and adventures
Essential dust and moisture protection which guarantees that any small specks of dust or particles will NOT appear on the image
Blackstone lens is equipped with the convenient hard-case version which cares about lens safety.