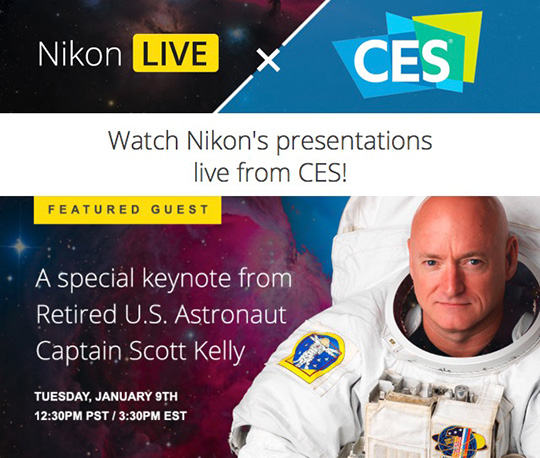 Today Nikon USA announced their 2018 CES schedule and it seems that they will have a very busy program:


From Nikon USA website:
Visit the Nikon Booth #14018 in the Central Hall of the LVCC, January 9-12, 2018.

We will be showcasing our lineup of DSLRs, our collection of legendary NIKKOR lenses and more.

Nikon Ambassadors and Nikon professional photographers will give presentations on various topics.

Day 1

On the first day of the show, we will have a special feature presentation by Retired U.S. Astronaut Scott Kelly, and a group of Nikon Ambassadors and professional photographers sharing stories of inspiration and discussing the work they're doing to support important causes, including: Jerry & Melissa Ghionis, Jen Rozenbaum, Ami Vitale, Stacy Pearsall, Tamara Lackey and Jim Balog.
Day 2

Presenters include Jen Rozenbaum, Michelle Valberg, Ami Vitale, Joe McNally, Stacy Pearsall, Dixie Dixon, Tamara Lackey, Mandy Lea, Matthew Jordan Smith and Lucas Gilman.

Day 3

Presenters include Adam Woodworth, Deanne Fitzmaurice, Chris Hershman, Joe McNally, Deborah Sandidge, Neil Ever Osborne, Jerry Ghionis, Corey Rich, Mike Mezeul II and Rod Mar.

Day 4

Presenters include Joshua Cripps, Kristi Odom, Nicole Holmes, Charlton Churchill and Lindsay Silverman.

Nikon will also be Livestreaming the presentations each day at nikonusa.com/live for those folks unable to attend the show in person. Tune in!
Here is the full press release:
Nikon Innovation Takes Center Stage at The 2018 Consumer Electronics Show
LAS VEGAS – Today, Nikon Inc. announced its plans for the 2018 Consumer Electronic Show (CES), including a captivating speaker schedule featuring retired astronaut Captain Scott Kelly, as well as the unveiling of the new AF-S NIKKOR 180-400mm f/4E TC1.4 FL ED VR super-telephoto zoom lens. In addition to Nikon's full lineup of leading products, visitors to the Nikon booth in Central Hall will experience the future of imaging technology and robotics with a demonstration from Mark Roberts Motion Control (MRMC).For those unable to attend CES, Nikon will livestream the presentations from the Nikon Theater throughout the week. For those interested in tuning into the livestream, please visit www.nikonusa.com/live.
"The 2018 Consumer Electronics Show provides an opportunity for Nikon to tell our story of innovation on a global scale, and how we can work with consumers and different industries to empower them with ever-changing imaging technologies," said Kosuke Kawaura, Director of Marketing and Planning, Nikon Inc.
The New AF-S NIKKOR 180-400mm f/4E TC1.4 FL ED VR Lens
Nikon will showcase the new AF-S NIKKOR 180-400mm f/4E TC1.4 FL ED VR, a professional-level super-telephoto zoom lens designed for photographing sports and wildlife in stunning clarity. This incredibly versatile addition to the NIKKOR lineup has been updated with the latest Nikon lens technologies for enhanced performance and image quality. Additionally, this new lens features Nikon's first ever built-in 1.4x teleconverter, and combines the use of a fluorite lens element and durable magnesium alloy construction for decreased weight and improved balance.
The AF-S NIKKOR 180-400mm f/4E TC1.4 FL ED VR lens will be available in March 2018 for a suggested retail price of $12,399.95*. For more information about this NIKKOR lens and other Nikon products, please visit www.nikonusa.com.
Captain Scott Kelly to Present at Nikon Booth
Retired astronaut Captain Scott Kelly will present at the Nikon Theater on Tuesday, January 9, sharing his experience as an astronaut, stories of his space missions and how he used photography to document his yearlong mission to the International Space Station with Nikon DSLR cameras. Since returning from his record-breaking stint in space, Captain Kelly's main mission now is to bring his insights and experiences to audiences all over, and challenge them to embrace risk and fulfill their dreams.
Nikon Innovation with Mark Roberts Motion Control (MRMC)
In addition to the roster of high-performance imaging products that will be on display at the show, Nikon will also be exhibiting the latest in robotic image capture with MRMC (Mark Roberts Motion Control, a Nikon Company). MRMC creates robotic still and video capture solutions for a wide variety of applications from the world's largest motion control arm to E-commerce systems built to capture with precise detail. Throughout the show, attendees will have the opportunity to experience the live demonstration firsthand and see what this new innovative technology can achieve.
CES 2018 Nikon Theater Presentation Schedule
The Nikon Theater will feature a full schedule of the world's most inspiring and engaging photographers throughout CES. All presentations will also be livestreamed — those interested in watching remotely should visit www.nikonusa.com/live to tune in.
Day 1 – Tuesday, January 9 (Show Hours: 10:00 A.M. – 6:00 P.M. PST)
11:00 – 11:30 AM: Jerry and Melissa Ghionis – Soul to Soul: The Soul Society
11:45 – 12:15 PM: Jen Rozenbaum – Empowering Women Through Boudoir Photography
12:30 – 1:30 PM: Captain Scott Kelly – A Year in Space
1:30 – 2:30 PM: Captain Scott Kelly Signing
2:45 – 3:15 PM: Ami Vitale – The Lens of Nature and Conservation
3:30 – 4:00 PM: Stacy Pearsall – The Genesis of Veterans Portrait Project
4:15 – 4:45 PM: Tamara Lackey – Beautiful Together: The Power of Photography to Affect Real Change
5:00 – 5:45 PM: Jim Balog – The Human Element: A Photographic Journey in the Anthropocene
Day 2 – Wednesday, January 10 (Show Hours: 9:00 A.M. – 6:00 P.M. PST)
10:00 – 10:30 AM: Jen Rozenbaum – Top Tips for Posing Any Woman
10:45 – 11:15 AM: Michelle Valberg – Wild Creatures, Extreme Conditions
11:30 – 12:00 PM: Ami Vitale – The Art and Evolution of Storytelling
12:15 – 12:45 PM: Joe McNally – The Color, Quality and Direction of Nikon Speedlights
1:00 – 1:30 PM: Stacy Pearsall – Personal Projects: Harnessing Your Talent
1:45 – 2:15 PM: Dixie Dixon – The Art and Soul of Fashion Photography
2:30 – 3:00 PM: Tamara Lackey – The Joy, Magic and Challenges of Photographing Children
3:15 – 3:45 PM: Mandy Lea – Life on the Road as a Landscape Photographer
4:00 – 4:30 PM: Mathew Jordan Smith – Five Steps to Success in Photography
4:45 – 5:15 PM: Lucas Gilman – Taking the Mystery out of Making Beautiful Time Lapse Movies
Day 3 – Thursday, January 11 (Show Hours: 9:00 A.M. – 6:00 P.M. PST)
10:00 – 10:30 AM: Adam Woodworth – Cosmic Vison: Capturing the Milky Way and Aurora
10:45 – 11:15 AM: Deanne Fitzmaurice – Storytelling with Heart
11:30 – 12:00 PM: Chris Hershman – One Man Band: The Art of Making Music Videos
12:15 – 12:45 PM: Joe McNally – Big Productions, Small Flash: Air and Ground
1:00 – 1:30 PM: Deborah Sandidge – The Art of Travel Photography
1:45 – 2:15 PM: Neil Ever Osborne – People, Planet and Protected Places
2:30 – 3:00 PM: Jerry Ghionis – Creating Iconic Photography
3:15 – 3:45 PM: Corey Rich – Capturing Timeless Home Videos
4:00 – 4:30 PM: Mike Mezeul II – Images That Happen When You Connect with Nature
4:45 – 5:15 PM: Rod Mar – Secrets to Stunning Sports Images
Day 4 – Friday, January 12 (Show Hours: 9:00 A.M. – 4:00 P.M. PST)
11:30 – 12:00 PM: Joshua Cripps – Chasing Light: Stories from a Wilderness Photographer
12:15 – 12:45 PM: Kristi Odom – The Passion of Wildlife Photography
1:00 – 1:30 PM: Nicole Holmes – The Sky is NOT the Limit
1:45 – 2:15 PM: Charleton Churchill – Exploring Destination Weddings on Mt. Everest
2:30 – 3:00 PM: Lindsay Silverman – One for the Road: Tales of a Traveling Photographer