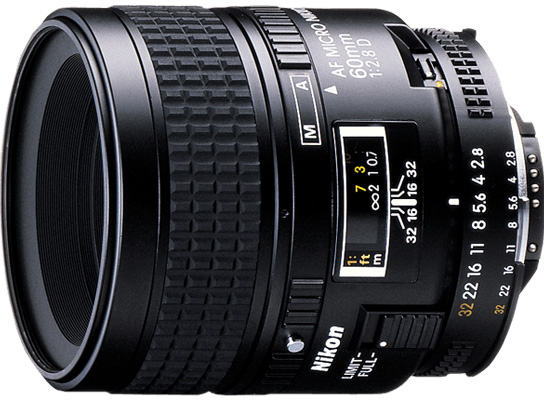 This Nikon AF Micro-Nikkor 60mm f/2.8D lens review is by Neo Vincent (Instagram) – you can check the pricing and availability of this lens at B&H, Adorama, Amazon and eBay:
I have been a reader to NikonRumors for many years, and after seeing much visitor posts, I wanted to give it a try. After months of wanting to do so, I finally have time for the review.
The lens in focus today (no pun intended) is the Nikon AF Micro 60mm 2.8D. This lens was introduced all the way back in the 90s, making it the predecessor of the Nikon AF-S Micro 60mm 2.8G. As a result, do expect loud autofocus noises, no weather sealing, no autofocus on cheaper bodies (such as D3xxx, D5xxx), along with a classic design (which I like). While old, this lens is still in production up till this day, apparently.
This review may seem odd or weird to many, as many people are probably interested in newer lenses only. However, don't you think it's good to look back sometimes, and see how wonderful older lenses are? Plus, there aren't all that much reviews out there anyways.
My main purpose of getting the lens was for nature stuff mostly plants, including flowers. Though most people on the internet did not recommend this lens for macro work, I was lured by its lower price, smaller size, and the benefit of FX, in case I switch to FX next time (I use a D7200). As I know I won't be doing 1:1 most of the time, and am fine with going close to my subject, I decided to bite the bullet and get the lens.
I first got my copy, back in March of 2016, and have since used it a lot (I do not know how much but still a lot). It wasn't an easy find, even though I got it new. After multiple queries from many local camera stores, only one store located in Singapore had its stock. This review will be all about my personal experiences with this lens (after 1 year of use, of course).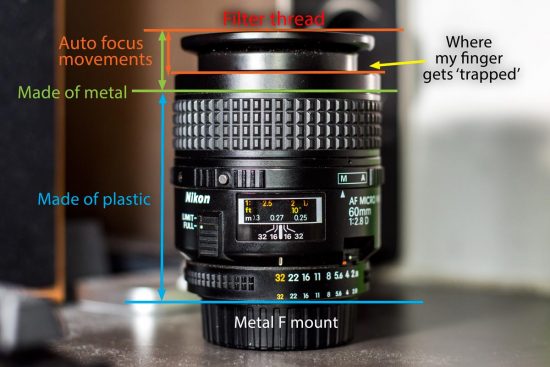 I will start off with the exterior and build quality of the lens. The lens has a non-rotating metal filter thread, along with the part that catches it, which is also made of metal. The rest of the barrel of the lens appears to be plastic, though it does have a metal Nikon F mount. While I do not have access to any other Nikon macro lens, it seems like the Nikon AF 60mm 2.8D is smaller than the rest, with the exception of the Nikon AF-S DX 40mm lens. It has a aperture ring, which no other lenses in the macro range that Nikon offers have one anymore. It does not have to be used, if you lock it to f32 and use the in-camera aperture setting. One issue that I face with this lens regarding the exteriors is the catch between the filter thread and the top part of the entire barrel (kind of hard to explain in words). As the autofocus racks in and out, I find myself having my fingers trapped on the two parts, which resulted in pain. I would then either use the autofocus to release it or turn it to manual focus to free my fingers. That is much better after a long period of use, as I know where to grip and where not to. This lens is apparently made in Japan, which contradicts the thinking of Japanese stuff being mostly more expensive than the Chinese stuff (if I recall correctly, all the other currently produced macros are from China, but the factory's closing, so who knows what's next right?)
Anyways, though I am supposed to use manual focus on macro shots (based on some people online), I don't, and autofocus is kind of required for me, as I always go the casual way, of letting the camera do all the focusing, while I focus on my framing (I don't use tripods for stuff like this either). Autofocus on this lens is a lot louder than most of my other AF-S and AF-P lenses, and this has to do with the older design, where the focus motor is on the camera body, and drives the focus through a screw like thing on the lens. I am somewhat fine with that, as I do not do any video usually. As for its speed, the autofocus speed is slightly slow, but it isn't all that bad at all, but it definitely feels slower than lenses such as the Nikon 50mm 1.8G (am I biased? I don't know).  The selection of between autofocus and manual is through twisting a ring of the lens, and I am fine with it, but it is really different from the AF-S stuff, so it needs some time towards getting used to it. It also has a switch between full range and limited range, which limits the focusing range, if you ever wanted to. Do note that the distance between 0.3m to 0.27m on the focus distance scale cannot be locked by the switch. There is no manual focus override (such that you turn the ring when you feel like it), but I never use that, and it doesn't bother me. By the way, when switching from auto to manual focus, there is a period where the focus ring doesn't feel attached to anything, and you have to turn the focus ring, until you feel a magnet-like thing attaching to the ring internally (you will be able to hear a click sound too), before manual focus starts working.

Regarding the optics, I would say that it is slightly soft (in most or all apertures, I use at f5.6 most of the time, f5 – f2.8, and it is worse), out of the box (at least in my copy). Colour saturation seems to be lower as well, at least in comparison to a 50mm 1.8G, in my opinion. The softness of the lens, isn't too bad, and should not be observable normally, until you zoom or crop in closely in post. I've also found that through AF Fine tune (manually through trial and error, now with +11) I was able to get a better, sharper result that I first got. I have yet to test it side by side though, so maybe I am biased again. As it does not have VR, one can get blurry shots if their hands are shaky. I think it's alright, as long as you try your best in holding it as steadily as possible.

Bokeh in this lens isn't the best, as expected in an f2.8 lens that can go all the way to f5.6 at its furthest focusing distance. As you stop down the lens' aperture, the round bokeh would also get a polygonal shape to it, as expected. Aperture control is also possible in video capture mode, if you're using the aperture ring, but I am not doing it.
To conclude, I love using this lens, and as a result of that, for most of my works, I used it. Two main issues that I have with the lens: the filter thread part that goes in and out as the lens focuses and with the overall slight softness in the image quality part. The best part about the lens to me is the value of it, along with the size of it. Would I recommend it? It would say yes (as I love it), but I believe other choices may be better if used in other ways, such as more serious macro stuff, which might require other lenses, for better images. If you can't live a day without total sharpness, this lens isn't for you. If you do things similar to what I do (plants and flowers but mostly not 1:1) then this is a good one for starting out. You can also check some of my photos on Instagram, which I may have shown the lens used in the description, as a sample.
---
If you have an interesting idea for a guest post, you can contact me here. Like the Nikkor Facebook page and join the Nikkor Facebook group. Check out also the latest US Nikkor lens-only rebates.