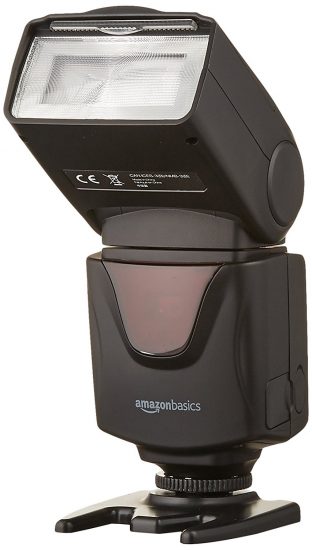 The cheapest flash for Nikon DSLR cameras is sold by Amazon under their brand AmazonBasics and it costs only $28. Here are the details:
External flash for taking professional-looking photos in low-light conditions; compatible with Canon and Nikon DSLR cameras
3 flash modes for versatility: M, S1, S2 (Manual mode, Slave mode 1, and Slave mode 2)
Standard PC synchronous port (input) for off-camera connecting; wireless sensor for triggering flash from a distance
Tilts up to 90 degrees; rotates up to 270 degrees
8 levels of flash-brightness control; automatic saving function retains current flash settings
Sensitive wireless sensor
Automatic saving function retains flash settings
Hot shoe stand and carrying bag included
As Petapixel noted: based on the design and the specs, this Amazon flash appears to be a rebranded Godox TT560 flash that costs $65.
The AmazonBasics is available also on Amazon UK and Amazon Germany.
You can find all AmazonBasics photography accessories on this page.