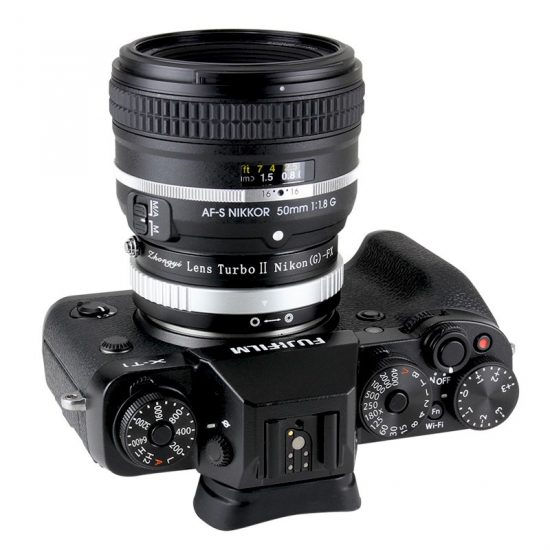 → New focal reducer lens adapter announced – it mounts Nikon F-mount lenses on Fujifilm X cameras.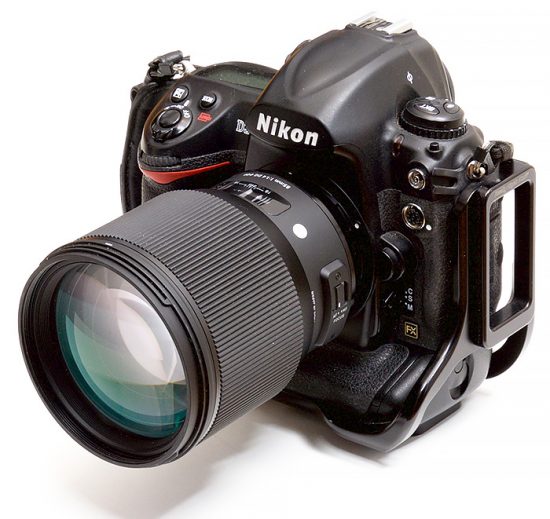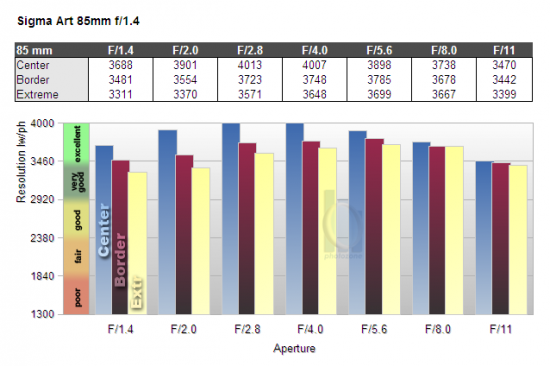 → Sigma 85mm f/1.4 HSM DG ART lens ($1,199) for Nikon F mount tested at Photozone:
"The Sigma 85mm f/1.4 HSM DG Art is awesome. Full stop. Albeit still not perfect. 😉 In terms of resolution it is amazingly sharp at f/1.4 already and the quality is breathtaking between f/2.8 and f/5.6. Low lateral CAs are the cream on the cappuccino in terms of subjective quality perception. Speaking of cream – the bokeh is generally very smooth although you may spot some rough edge transition in the image foreground and, yes, you still have to live with "cat eye" highlights in the image corners. It also suffers from some bokeh fringing at large aperture settings. Image distortion is practically none. There is the usual amount of light falloff at f/1.4 but it's no real issue from f/2 onward. Based on what we've seen out there, we'd also state that the Sigma is comparatively resistant to image flare in back-light scenes.

All results taken into account, the Sigma easily beats the Nikon AF-S 85/1.4G, however the real contender is the AF-S 105mm f/1.4E, the current benchmark of AF portrait primes. The Sigma comes very close to this one, the minor differences in the lab results are likely irrelevant in the field. The best news about it is that it delivers almost the same high quality for roughly half the price of the Nikkor."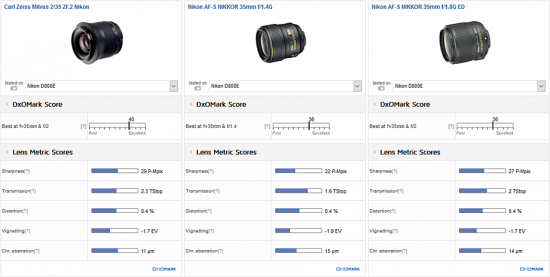 → DxOMark tested the Zeiss Milvus 35mm f/2 ZF.2 lens for Nikon F-mount ($1,117):
With an irreproachable reputation for quality, Carl Zeiss lenses have long been the desire of many a photographer. Historically and unfortunately, they've often been out of financial reach of many of us, but the new Milvus range looks to address that with some competitively-priced models to challenge the high-performance optics from both own-brand and third-party manufacturers.

Featuring an all-metal construction, manual focus, and Zeiss precision engineering, the Milvus 35mm f/2 is the type of lens that should last a photographer a lifetime. Performance is outstanding, with excellent low-light results, consistently good edge-to-edge sharpness at all apertures, and minimal distortion. All that helps the Milvus 35mm f/2 rank above the more expensive Nikon 35mm f/1.4G and Zeiss Distagon T 35mm f/1.4 lenses, making it a good value option if you can live with the one stop slower f/2 maximum aperture. It's pretty much neck and neck with the cheaper Tamron SP and Sigma Art alternatives, however, both of which are giving Zeiss a run for its money in the modern market. These third-party equivalents come with extra features, too, such as autofocus and image stabilization (in the case of the Tamron). If you want some first-class German engineering to attach on the front of your Nikon DSLR, though, the Carl Zeiss Milvus 35mm f/2 is a beautiful lens and delivers top results.


→ Nikon published a gallery of entries that passed the 1st round of their Nikon Photo Contest.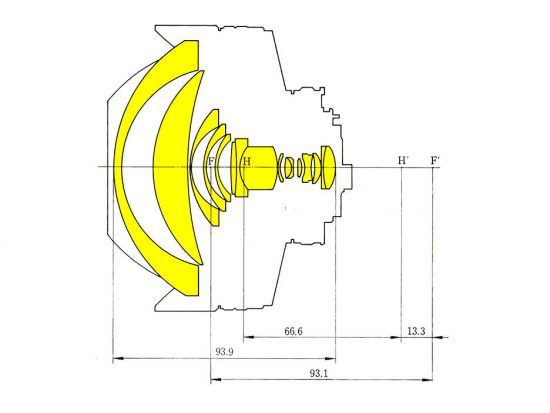 → Nikon Nikkor 13mm f/5.6 AI-S lens is listed for sale on eBay and Amazon for $25k. Only 350 pieces were produced. Additional info on this lens can be found at: