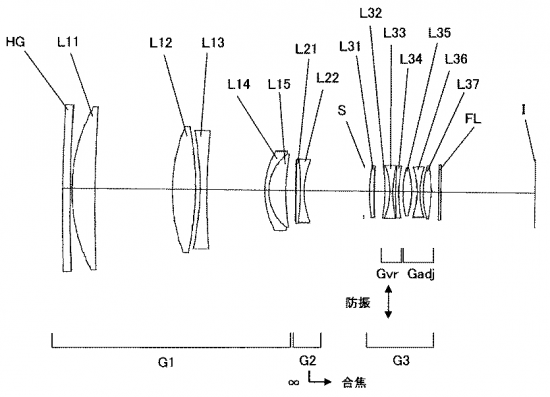 I have been reporting for months now that Nikon will slowly update many of their current tele photo lenses with a fluorite (FL) element (see the difference between Nikon's fluorite lens and fluorine coating). You can see the initial list of upgrade candidates that date back to 2014. There has been several patents in the past for new Nikon lenses with fluorite (FL) element and the latest filing in Japan point to a new Nikon 300mm f/2.8 FL lens. Here are the details:
Patent application: 2016-161641
Published on September 5th, 2016
Filing date: February 27th, 2015
f: 294.00 (focal length)
FNO: 2.91 (aperture)
2ω: 8.32 (angle of view)
Y: 21.60 (image height)
TL: 305.39 (total length)
BF 67.25 (backfocus)
Internal focus (IF)
Vibration Reduction (VF
Note: Nikon 1mm f/1.8 VR lens patent

Another, a rather unusual Nikon patent was also recently filed in Japan: 1mm f/1.8 VR lens designed for a camera with a really small sensor. Please note that this is not a 43mm lens like being reported by several websites, but a 43mm equivalent lens (in 35mm format). This is a specialty lens, not designed for a "regular" photography camera.