The walls of Myanmar (Burma)
is by Julian Ray (
Website
 | 
Blog
 | 
Instagram
, see also
his previous guest posts
):
It's 6:00am in downtown Yangon, Myanmar (Burma) and the people that are part of my travel photography group are complaining boisterously about the Monsoon rains that are in full force outside. They all want to stay in the hotel and wait it out, siting equipment concerns, wind, flooding, and so on.
From time to time I lead photography tours and teach groups around the SE Asia area when I need a break from the commercial and PJ photography world that is my life. This is just such a tour.
This morning, my "victims" are already bracing for another day of street walking, mud wading, and traffic dodging that makes up most of our week long exploration of Myanmar. What they are not too excited about are the Monsoon rains that are part of life of this time of year.
The discussion centerers around the challenge of access to "real street life", the technical difficulties the rains bring, and the lack of proper rain proof clothing they brought.
It is then that I talk about the fabulous colours that only happen this time of year. The combination of rain, cool temperatures, molds and mosses, time, and the relative ease of access to scenes that would normally be obscured by traffic, street vendors, and more traffic. My reluctant group seems skeptical but are good sports and venture forth with me for a quick tour of some of these fantastic canvases that only happen for a few brief weeks out of each year.

What I'm talking about are walls. Walls that are common and can be found down almost any street here.

Some of these walls are the whole side of a building.

Other walls are just a couple of meters across.
Some walls are part of an old historic colonial era building and others are just the side of little shack.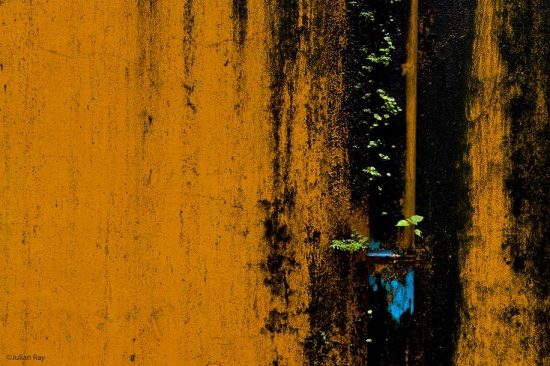 During this time of year the extreme dampness feeds all sorts of molds, mosses, and mildues. These interact with the paint, cracks, and other features of older walls to create outrageous otherworldly combinations of colours, textures, and composition that is almost impossible to recreate in any other art form.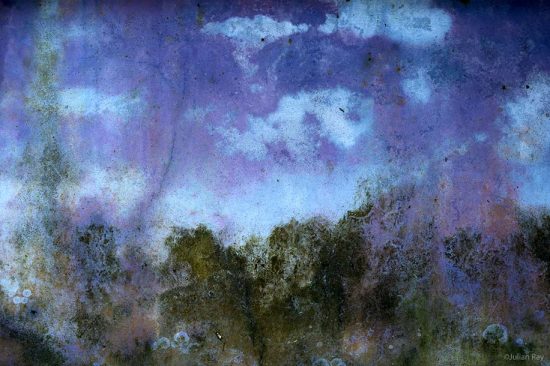 Some of the walls in this post have been printed in large format for hotels, restaurants, or spas and I always delight in listening to people speculate about what they are.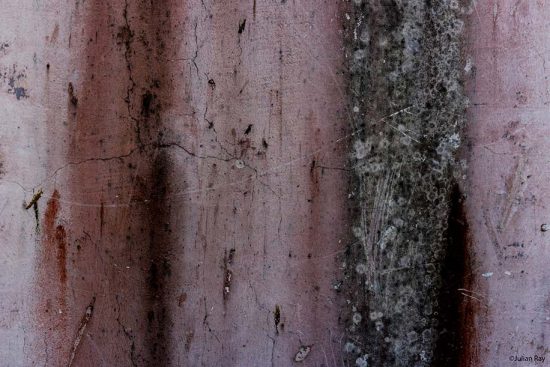 For me a successful image is one that is less explicit and invites the viewer to bring their story into the image.
As the group soggs it's way down one street then the next I start to see the eyes of my group working. One by one they get the point of this excursion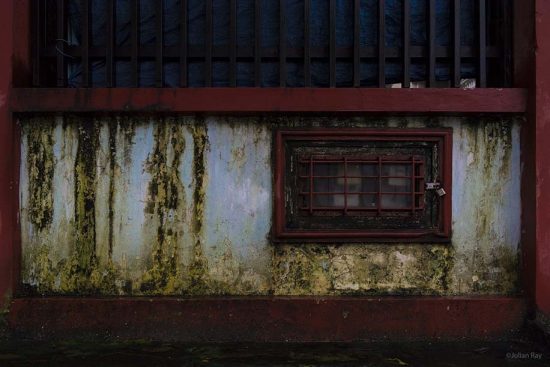 I talk about seeing not just looking as a key part of successful photography. It is much less challenging to take an impactful image of a dramatic event than it is to see the beauty in ordinary day to day life. Yet some of the most memorable images ever made are just that. Ordinary things but seen with fresh eyes.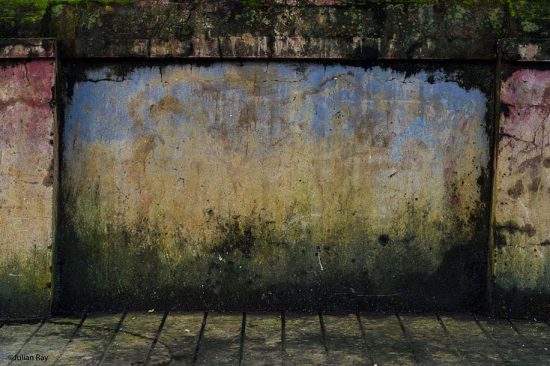 This kind of photography can be quite challenging. The light is usually very low as the best time to see these walls is very early before they are covered with tea shops, produce stalls, hard shadows, high contrast, and countless other obstacles of daily life.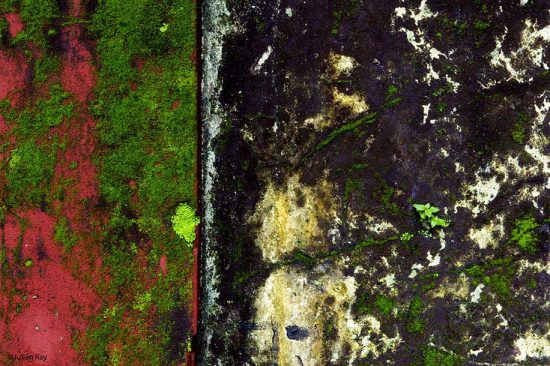 Some of the technical challenges are easy to deal with.  A tripod is almost a must. Keeping the ISO low means longer exposure times so a very steady platform is key.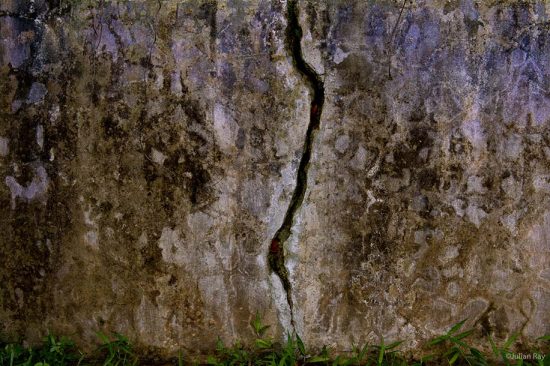 Yes the rain adds another challenge. All these images where shot in the short times between downpours. I have taken a few rain streaks out of some but for the most part they are naturally streak free.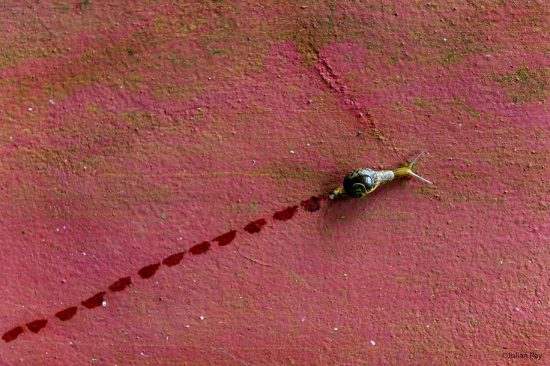 All of these walls where made with a Nikon D4, D4s, or D5 camera bodies. The ability for these bodies to withstand the hard use of PJ work, dirt, dust, rain, humidity, travel and countless other challenges is, in my experience, unsurpassed by any other brand.  The D5's colours are fabulous and the low light sensitivity is like nothing else.
As for lenses I used one of the 'holy trinity' the 14-24mm f2.8, 24-70mm f2.8 VR, and the 70-200mm f2.8 VR II. Though these lenses are not the most versatile for travel work, nor the lightest, they are as tough as it gets and their optics are outstanding.
In a couple of cases I've used one or two Profoto B2 lights bounced off of a wall on the opposite side of the street or other surface as the ambient light was just too dark to fully capture the colours present.
As far as retouching goes there is almost no "tweaking" done. I have taken out the more obvious rain streaks where needed. Brought up the blacks a bit in some cases. As the colours go there has not been any enhancement. Vibrancy and saturation are flat. I have brought up the shadows a bit on some and some get a bit of colour temp correction. Thats it.

Other kit I use for this kind of work is an umbrella, various plastic bags, tripod, lens tissue, a sense of humor, and most of all curiosity.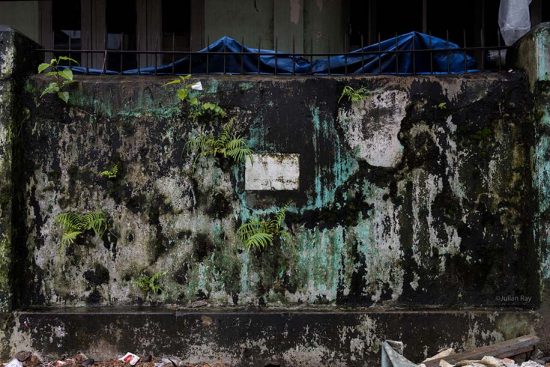 Some of the walls we found where bright and vibrant.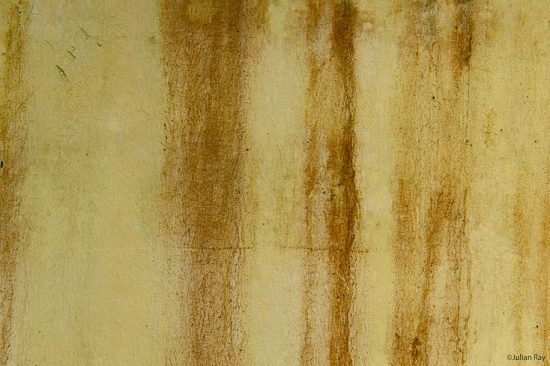 Others where so dark, the molds were so deep they virtually sucked all the light out of the street.
Some walls have colours that are almost comical in their combinations.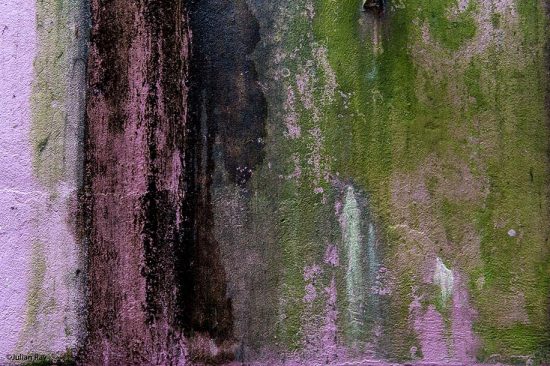 Some walls are hard to get to and others are right there in plane view.

Alas these amazing walls are disappearing as the modernization and new construction quickly is demolishing these old walls and replacing them with new, clean, bland ones. Walls that have no character and can be found all over the world.
As we walked the streets of downtown Yangon the group slowly forgot about the rains and started to see this city in a new light. Not just in terms of context and activity but in terms of textures, light, hues, and history.
Thank you for your time.
You can see more of my work here: Website | Blog | Instagram.
If you have an interesting idea for a guest post, you can contact me here.