Huber Patric (website | flickr | facebook) and his abandoned mining sites, industrial ruins, old bunkers and ghost houses photography:
Did your parents take you as a child in sticky tourist caves with trails better that any highway?
I liked it, but I always wondered what's behind there in the black hole where tourists are not allowed.
My pleasure with dark holes changed to a passion for abandoned mining sites, industrial ruins, old bunkers and ghost houses.
It's just about to enter a time capsule. I am always looking for places that are abandoned for at least 5 Years. But some of those ruins are abandoned for 10 to 100 years. Inside you'll find cool stuff, and I always wonder how those people could build such things without the machines we have today.
Inside those structures you'll find the nightmare of any electronic device. There are always low temperatures, water, dust, dirt, sand, mud, oil and other chemicals that were left there because recycling and environment protection was not at all a priority in those times and by the way not yet enough today.
I've been taking pictures since I was 10 Years old and got a Canon AE-1, changed as a teenager to Minolta and since the Nikon F4 I use Nikon. Today I can say, Nikon? What else? Not because I am a Nikon brand slave, but those Cameras are tough like a fusion of Ironman with the Hulk.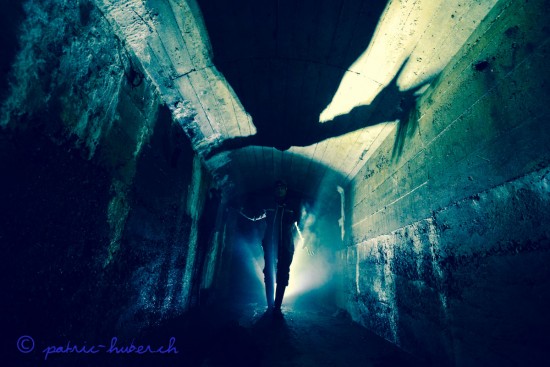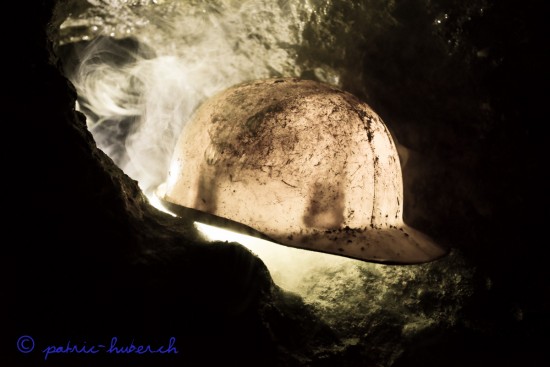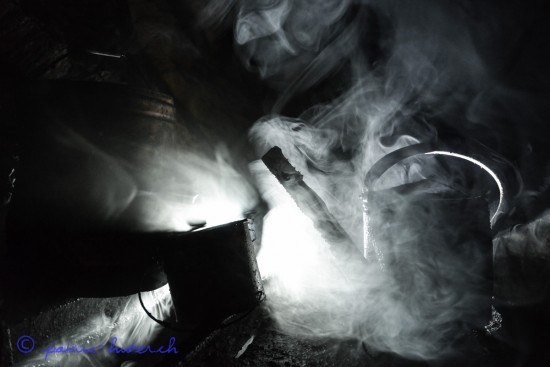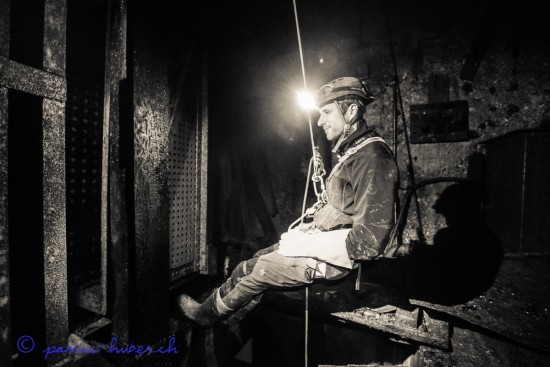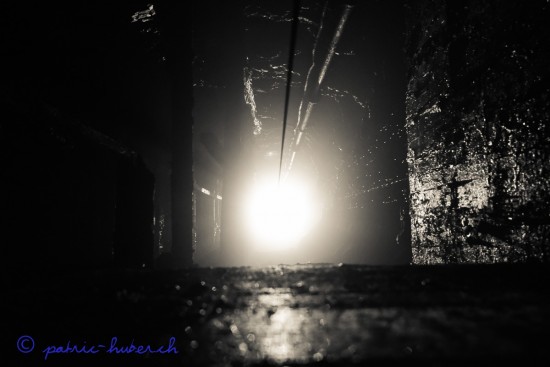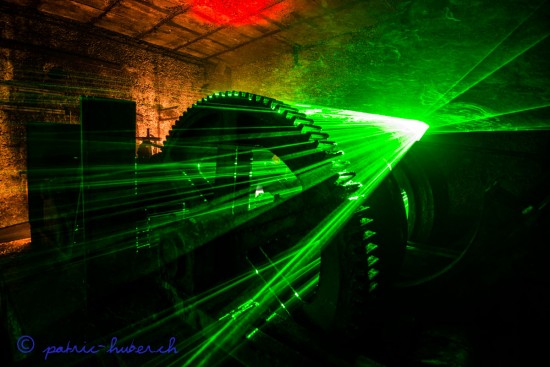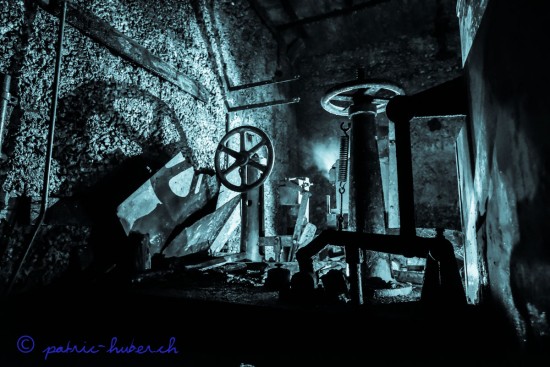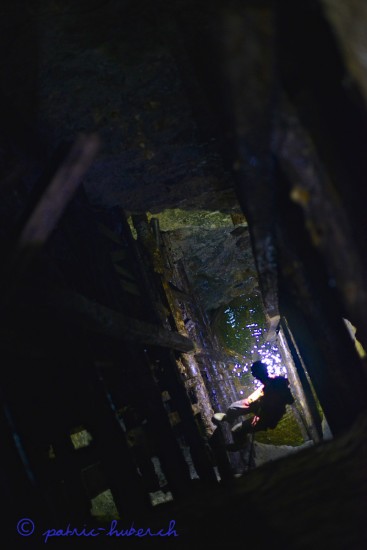 The pictures above were all taken in the 70's abandoned Fluorite mining site close to Utzenbach in Germany. All pictures are taken with the D800 and the Nikkor 16-35/f4
The Black Forest in Southern Germany is the paradise of abandoned mines. Fluorite, Silver and Lead Mines are everywhere. And all of them were abandoned between the 1950's and 1970's.
And you can imagine there is not an open door for going inside. So my friends and I were in some sort of grey zone of law. But we never broke anything or took something else than pictures outside. So we used ventilation tubes or natural chimneys to get inside. We were well prepared with climbing skills and construction plans.
But the equipment problems are only started there at the entrance. I never know what's inside. And volume and weight is crucial if you have to stay a whole day in such a place and have to use climbing equipment for descending and climbing back outside over hundreds of meters.
For locations like these mines I restricted myself to a Thinktank Speedfreak which fit perfectly in a water-resistant rope bag. So I took one body and max. 3 lenses with me. My preferred lenses for caving are the Nikkor 16-35/f4 the Nikkor 50/f1.4 that I complete sometimes with a Macro and a Diagonal Fisheye lens. For Lighting I take two SB 900, one or two Nitecore TM-26 Torches, a lot of candles and other smaller lights and sometimes laser pointers. And I always take a good tripod with me because I use very long exposure times.
For those locations that offer more space, I have a Lowepro Trecker 650 AW bag. Like here in this abandoned health clinic in Feldberg Germany.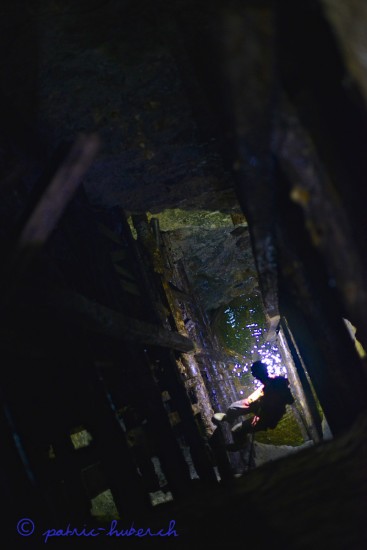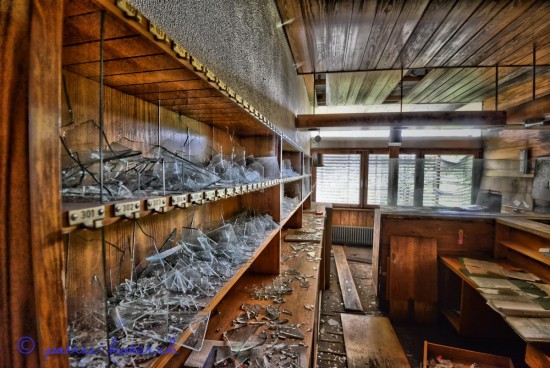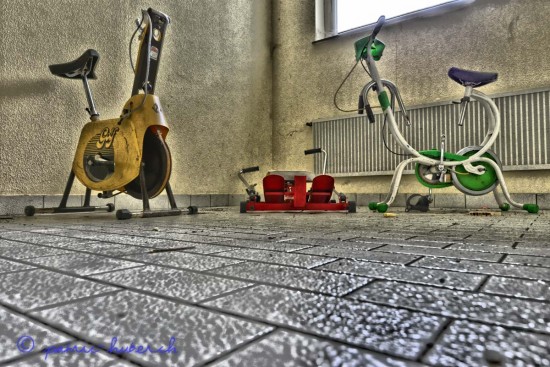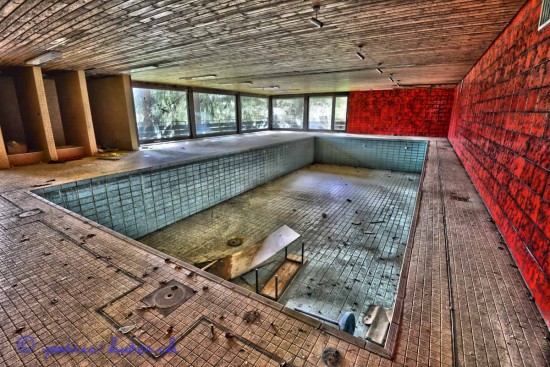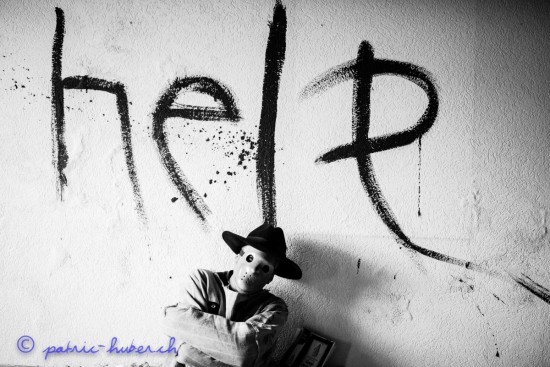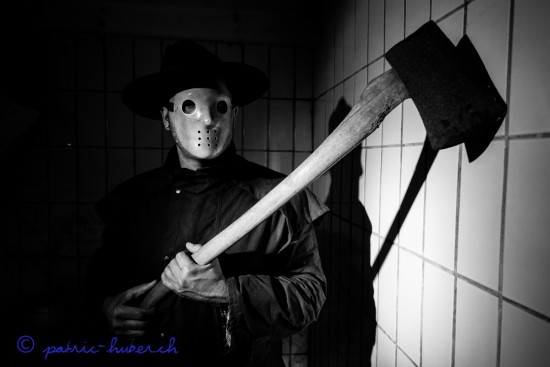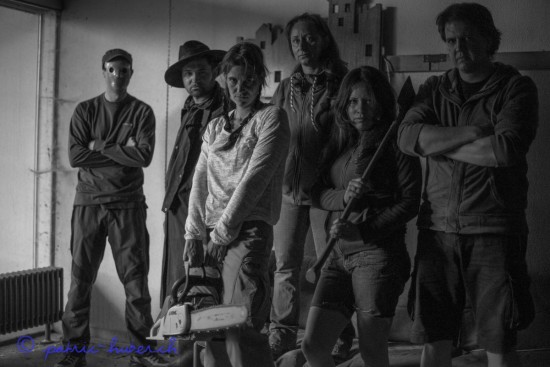 I never use protection bags once the camera is out of the bag. On the lenses I have neutral filters, because often the front lens element gets wet and if you start to clean in combination with dust or sand you can imagine the scratches on the front lens element. But for the rest I use my body's and lenses as they are.
Another problem is changing lenses. But whatever I have done to protect mirrors and sensors in those situations was not helping. The D800 behaves like it sucks in dust like a vacuum cleaner. So sensor cleaning etc. I do it a lot. But I had never had any problems from water dropping on the camera.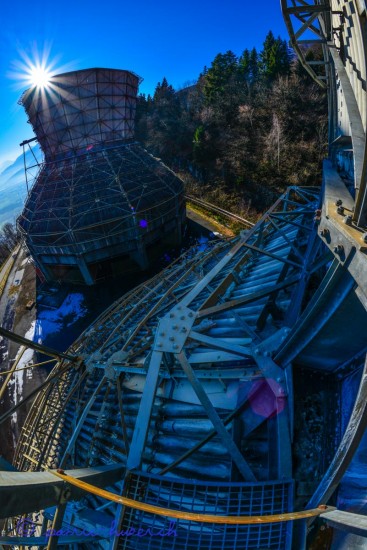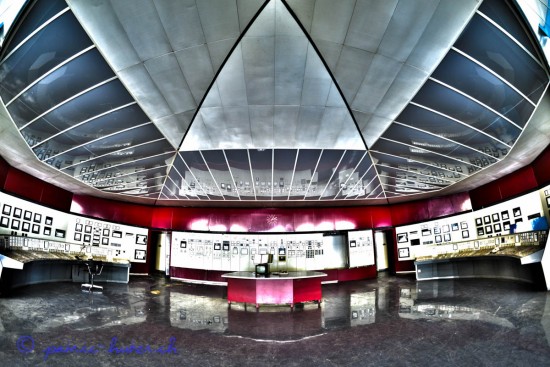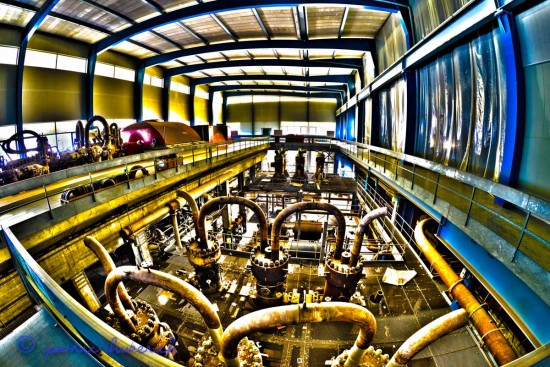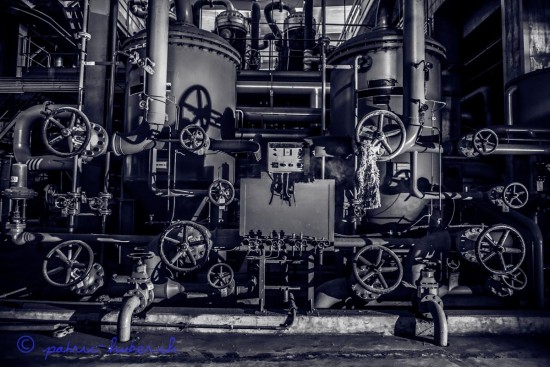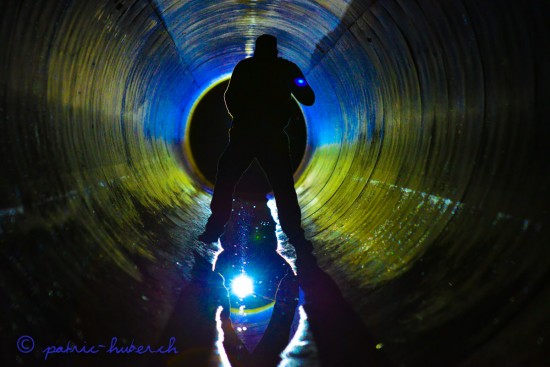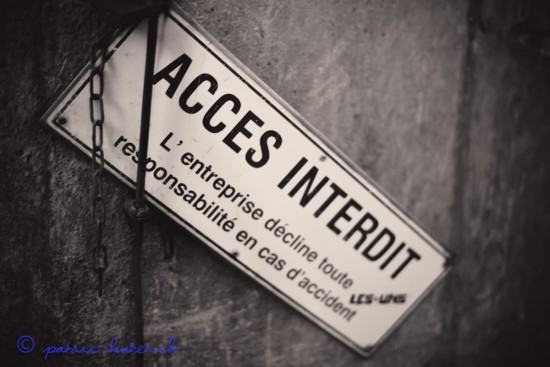 The pictures above were taken in an abandoned Oil Power Plant named Chavalon in Switzerland. The problem was to find an entrance. But LOST PLACE Photography is always with the risk that you go there and don't find a possibility to go in. Here the solution was to take the role of a rat, so we found an entrance to the empty cooling pipelines that lead us directly to the core of the power station. We had a lot of fun at these locations. You can play core breach in the central or play with the extreme echo in the very large tubes. As you can see I like strong contrast and colors. I do a lot HDR's and use 9 pictures that I combine with Photoshop or with HDR Darkroom. Sometimes I do the Brenizer Method, but only if I have a lot of light.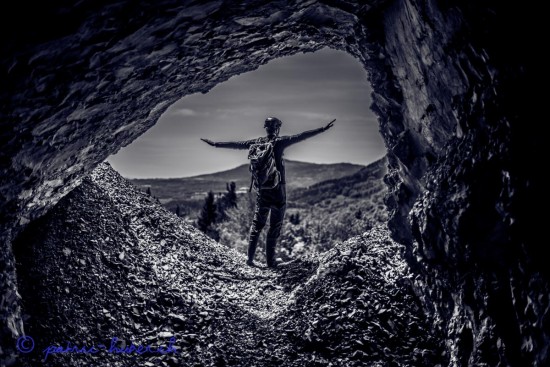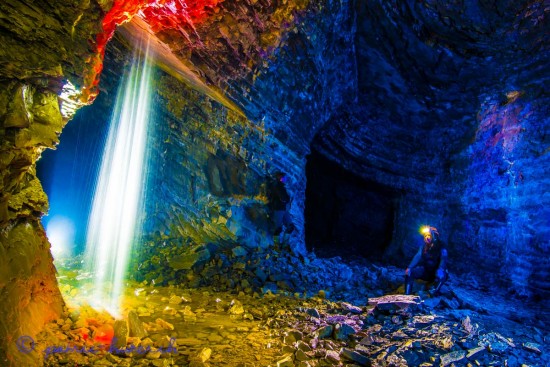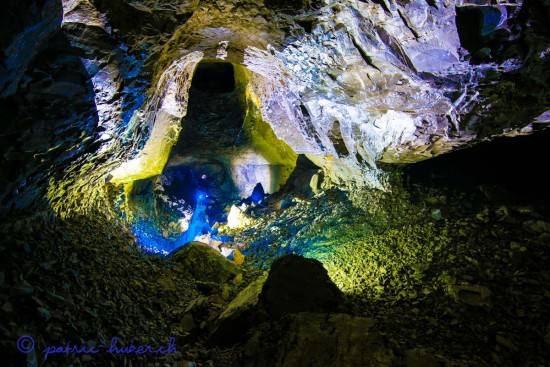 The pictures above show an abandoned mining site in Les Baulmes Switzerland. Here a lot of water was dropping from the ceiling. The lighting in the water was done with the TM-26 and the colors by walking around with a SB-900 with a blue balloon over the flash's head. I flashed manually about 10 times while walking around. The solution is always trial and error.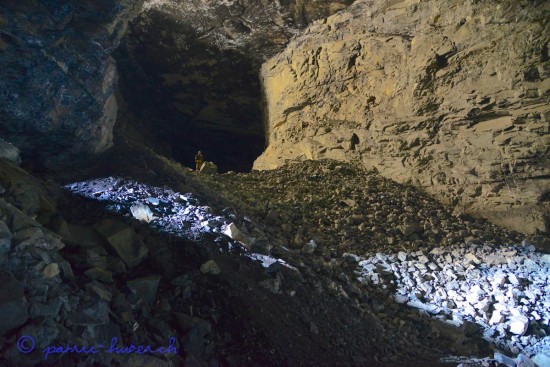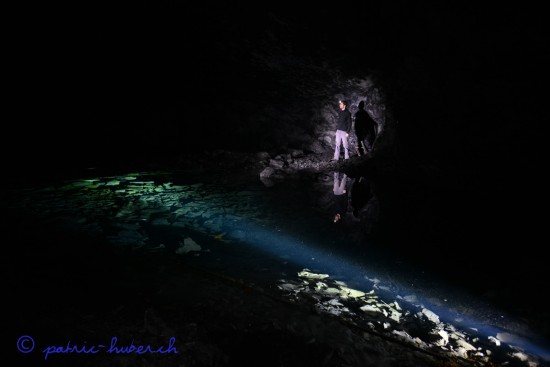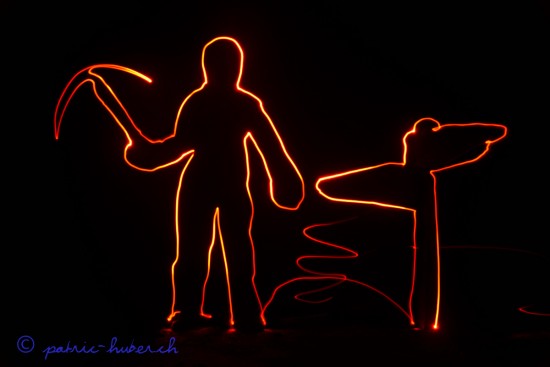 The photos above where taken in an abandoned mining site in Walensee, Switzerland. A perfect example of what is left behind in those places. A lot of lorry's, rails, machines and more. I just can't get enough of this stuff.
The photos below were taken in an abandoned house in the Swiss Alps close to Churwalden, which is close to Roger Federer's home.
Normally I have a mirrorless camera in my bag, but here I also had the D800 with me. I am also waiting for a Nikon mirrorless camera with a big sensor.  😉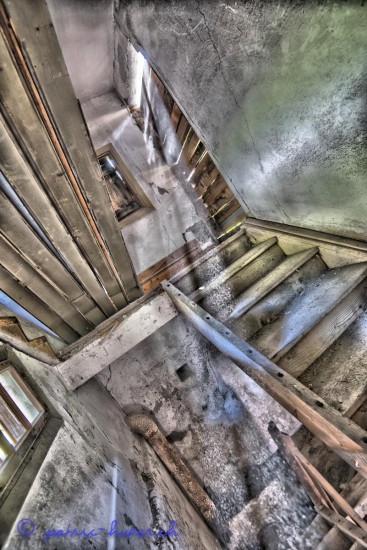 Bunkers are another story. In France and Germany you can find a lot of them. But in Switzerland a lot of them are reused as museums or for private businesses. Sometimes you find one just by walking around in the mountains. Below you see one picture taken in the Bunker who brings you from one side of the mountain to the other side. The second picture was taken from the bunkers backdoor. The whole trip was about 8 hours and therefore I was happy that I didn't take too much equipment with me.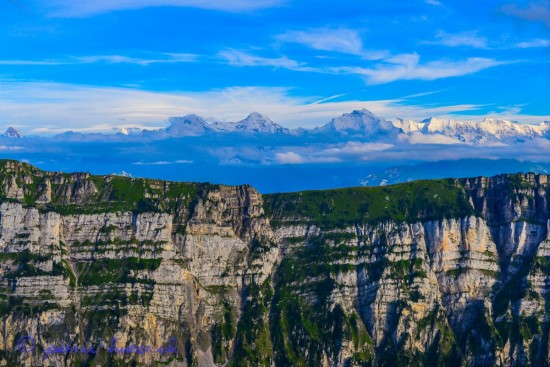 After these locations I often have dirt on the camera body or the lens. I wear gloves in these locations and take them off for taking the pictures. But with all of my attention it's not possible to get out without some dirt on the body and the lenses. At home I always dry the bags, the body, and the lenses completely and take of the dirt with soft brushes.
PS: I promised with the title "Wet and Dirty" photos…
So here you can see some pictures of an abandoned red light establishment. For myself I can say without getting a red face… I was in a brothel… Bolero, Hauenstein Switzerland.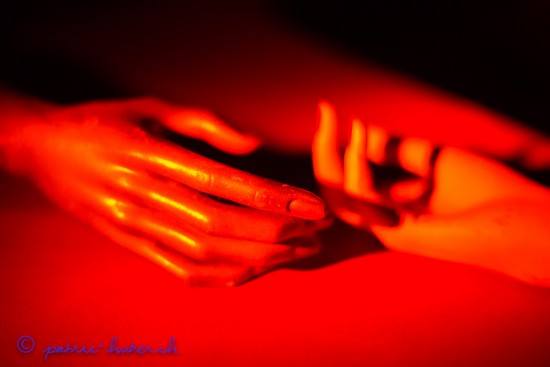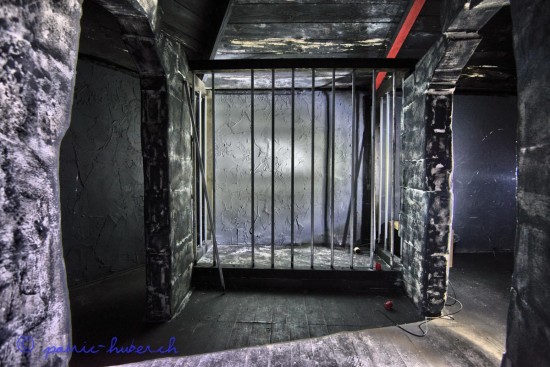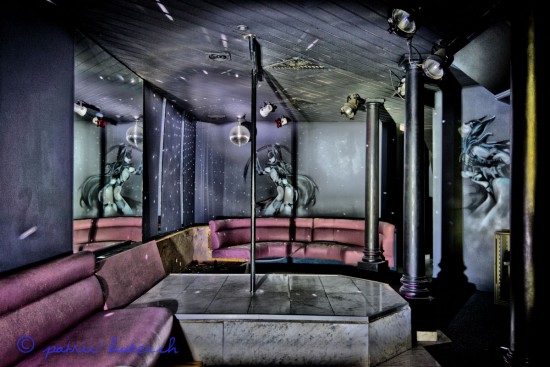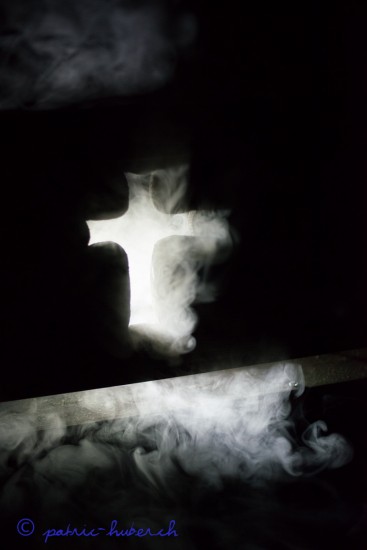 More photographs can be found on Patric's website: www.patric-huber.ch (German only) – you have to go directly to Menü>Fotografie>LOST PLACES.
If you have an interesting idea for a guest post, you can contact me here.