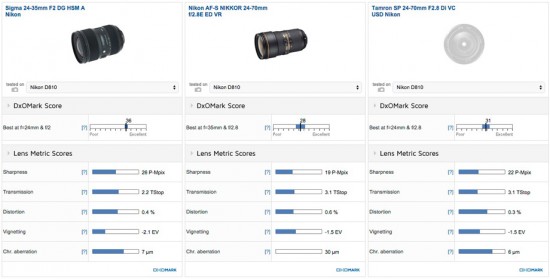 DxOMark published their test results of the Sigma 24-35mm f/2 DG HSM Art lens for Nikon F mount ($999):
All three models perform well, with Nikon's own Nikkor brand 24-70mm f2.8 coming in third with a DxO Mark score of 28 points, and the Tamron in second place with 31-points, but that's not such a surprise, given the extra level of difficulty in making wider-range zooms. Still, it does show just how good both the Tamron and Sigma models are, and the latter's wider aperture is at least as challenging optically as the extra reach.

Sigma's higher peak sharpness and low levels of chromatic aberration are impressive, but at f/2 the Sigma isn't as sharp as either the Nikon or Tamron at f/2.8 over the same focal range. With the Sigma stopped down to f/2.8, though, it is superior to both, and particularly so in the outer field at 24mm. Stopping down further, the Nikon doesn't fare that well in the outer field due to a combination of strong chromatic aberration, curvature of field, and astigmatism. The Tamron comes close to the Sigma from f/4 through f/8, but similarly suffers from some astigmatism, which can be troublesome (although it depends on the subject and its position in the frame).

All three models have better control of uniformity and fringing at 35mm, but the Sigma leads until f/8, where the Tamron matches it more or less across the whole image field. As for vignetting, at maximum aperture the Sigma has more to contend with than its rivals, and it has slightly higher pincushion distortion at 28-35mm, but it has lower barrel distortion than either at 24mm.

At around $999, the Sigma 24-35mm f2 DG HSM A is reasonably affordable, fast, and optically outstanding. It can easily take the place of a 24mm and 35mm lens, but of course it is not as convenient as the more typical 24-70mm focal range of standard zooms. And as we've seen recently, manufacturers are adding stabilization to those models, making them a lot more attractive to a wider audience (if you include videographers). Nevertheless, the Sigma appeals to same crowd and is more accessibly-priced than either the new Nikon or Tamron. In spite of the somewhat narrow focal range, it is an attractive alternative, and it will likely be a popular choice with enthusiasts looking to cut down on the number of lenses they carry.
DxOMark also tested the Tamron 18-200mm f/3.5-6.3 Di II VC lens for Nikon F-mount ($249):
DxOMark's conclusion – good value for money:
Lightweight, convenient, and affordable, the Tamron 18-200mm f/3.5-6.3 will be a popular mass-market lens for enthusiasts shooting APS-C. Covering a versatile wide-angle to long telephoto focal range in a relatively compact and lightweight unit makes it challenging for super-zooms to deliver top image quality however. As we've seen, the Tamron 18-200mm f/3.5-6.3's overall DxOMark score of 13 point ranks towards the lower end of the performance spectrum when tested on the Nikon D5300. Within its own APS-C super-zoom 18-200mm class, it achieves the same overall DxOMark score of 13 points as its Sigma and Nikon rivals. Both the Sigma and Nikon versions offer slightly improved sharpness, however, and offer better resolution than the Tamron at a 50mm focal length. At 200mm, sharpness for all three lenses isn't great, however, so if it's good performance at long focal lengths you desire, you should consider a lens with a shorter focal range such as the Nikon 18-140mm. With the addition of Tamron's Vibration Compensation system on the new 18-200mm f/3.5-6.3 super zoom, however, together with the weight reduction down to just 400g — around 1/3 lighter than the Nikon alternative — it's a good value-for-money option for those photographers looking to lessen the load.