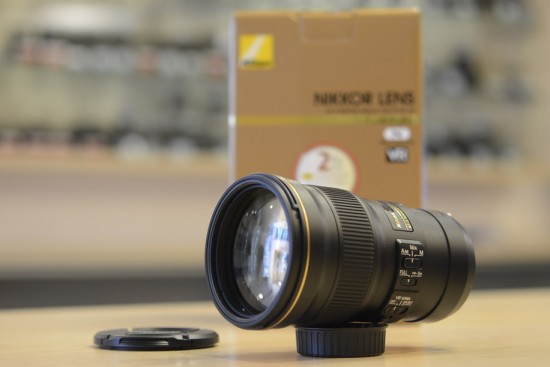 Nikon is now offering a firmware update for the VR issues found in early shipments of the Nikkor 300mm f/4E PF ED VR lens (serial number under 205101). The problem: when shooting at around 1/125 or lower shutter speeds with a D8xx cameras, handheld shots with the VR OFF were much sharper than the shots taken with the VR ON (see the user reviews on Nikon USA for more details).
Nikon quietly stopped shipping the lens shortly after it was released. My understanding is that a new batch that has the issue fixed was already distributed in the US. The lens is still currently out of stock.
The firmware update is not available for download – you will have to send your lens to Nikon for service.
Full text of the Nikon service advisory:
Firmware update details
We have confirmed that when the AF-S NIKKOR 300mm f/4E PF ED VR lens is used with the D800, D800E or D810, images captured at shutter speeds of around 1/125 s with the VR function enabled (NORMAL or SPORT) sometimes exhibit noticeable blur. To reduce the occurrence of this, we will offer a service for updating your AF-S NIKKOR 300mm f/4E PF ED VR firmware. When cameras other than the D800, D800E or D810 are used, this firmware update is not needed.

Updating lens firmware
Users of the D800, D800E, or D810 who are concerned about this issue may take or send their lens to an Nikon Service Centre, where your lens firmware will be updated free of charge.

Identifying lenses with which the firmware has already been updated
Firmware for lenses with a serial number of 205101 or later have already been updated.

*Depending upon the way the camera is held when shooting, or the shooting conditions, images may be blurred even after this lens firmware is updated. (Source)
Here is some additional feedback sent by readers:
I got my Nikon 300mm F4 VR G, E, & PF lens from B&H this past Wednesday (3-25-15). I had ordered it early morning 1-6-15. My results so far indicate absolutely no VR problems & no focusing problems.

Focusing is pretty fast but not as fast as my 80-200 mm F2.8 AFS lens. Focusing speed remains fast with TC-14E AFI teleconverter and slows down a bit with the TC-20E AFI teleconverter. Focusing in very dim light on a pot of black coffee this morning using the TC-20E AFI teleconverter 600 mm @ F11 and ISO 12,800 @ 1/5 second hand held resulted in a reasonably fast and accurate focus acquisition and sharp photo of the transparent coffee pot filled with black coffee.

Testing for the VR failure hand held at slower shutter speeds hand held indicated my lens and Nikon D810 had no problems at all. Using the TC-14E AFI teleconverter (420 mm F5.6) I got real sharp photos from 1/250 second to 1/15 second. 1/8 second was just barely not super sharp and 1/4 second and lower were obviously blurry. Going with the TC-20E AFI teleconverter (600 mm F8) with the lens set to F11 hand holding it focus was acquired very quickly in dreary rainy morning light on a printed tag in a potted planter about 7 feet away. Results were 1/200 second with VR was very sharp and shutter speeds slower than that had increasing amounts of blurring. All in all, this lens was well worth the wait.
——————————-
I tried something that seems to shed some light to the VR issue that some people experience with the Nikon 300mm PF. I tried 3 copied of the 300mm pf lens on many cameras and never had an issue with VR in low speeds as suggested from some reviews and forum members. After a suggestion that mirror slap could be the issue on "ungripped" cameras (and especially the D810) I tried the test below which I was able to replicate. The D7200 works ok at every speed with or without a grip. ON THE OTHER HAND the D810 works ok with the grip (how I was always using it thus I never experienced the issue before) BUT as soon as I removed the grip the VR issue surfaced! It seems like the mirror slaps at certain frequencies that affect the VR system of the 300mm pf on certain cameras (i.e. D810). The grip changes that frequency on the D810 and solves the issue. Examples: D7200 GRIPPED | D7200 NO GRIP | D810 GRIPPED | D810 NO GRIP