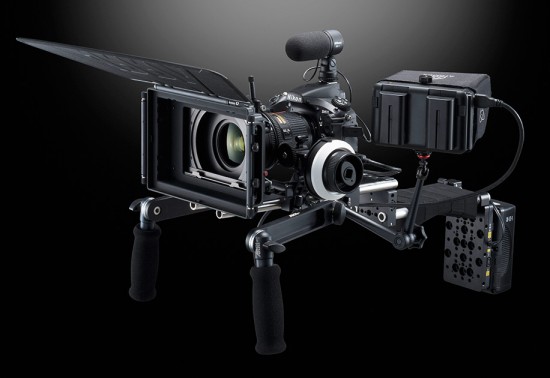 Today Nikon distributed a new press release about upcoming firmware updates for the D4s, D810 and D750 DSLR cameras that will bring support for timecode and recording command functions with HDMI output – the cameras will be able to basically communicate with external video recorders.
I am not sure if this is somehow related to the rumors of a new firmware download program which I still think is/was legit.
Here are the full press releases:
London, UK, 9th April 2015: Nikon Corporation is developing new firmware for its Nikon D4S, Nikon D810, and Nikon D750 DSLR cameras, for release this summer. The new firmware will provide support for timecode and recording command functions with HDMI output to external recorders.

With the new firmware, communication can be established between the cameras and external recording devices. Video recorders will be able to recognise the cameras' own operations, enabling the start/stop recording commands to become synchronised and automated. Meanwhile, new support for timecode imprinting will improve editing capabilities, as sound and video can be aligned, to create a smoother editing process.

Nikon continues to expand and provide greater support for its video recording functions in response to the creative needs of professional photographers, videographers, video creators and advanced amateurs. With improved video recording capabilities, users will be able to take full advantage of the performance of Nikon's range of products.

Demonstrations of the firmware currently under development will be held in the Nikon booth at the National Association of Broadcasters (NAB) Show, held in Las Vegas from Saturday 11th April through to Thursday 16th April .

Simon Iddon, Group Product Manager, D-SLR Lenses and Accessories, Nikon UK, says: "DSLR cameras are being used now more than ever for broadcasting, film and video production, so they are required to capture stills whilst being able to support high quality video recording and editing. This new firmware will make the process even easier, allowing greater communication between multiple systems when used professionally. Nikon's continuing advancement and dedication to making our products better and even more capable is demonstrated in these innovative new changes."


The US version of the press release mentioned also the 2015 NAB show and the Nikon D750 and D810 filmmakers kits:
MELVILLE, NY – At NAB 2015, Nikon (Booth # C8818) will be showing a full range of tools for a modern production environment, with versatile DSLR cameras and NIKKOR lenses for professional video applications. Several Nikon Ambassadors and industry professionals will be presenting at the Nikon booth throughout the show, demonstrating a variety of different filmmaking techniques. Additionally, Nikon Corporation will be announcing the development of new firmware, for select Nikon DSLR cameras, to improve workflow for professional video applications by enhancing capability with third party external recording devices. Nikon plans to release the new firmware later this summer, which will be available at no cost to customers.

Nikon at NAB 2015:

Industry professionals are invited to the Nikon booth to view the company's full line of DSLR cameras for content capture, including the D750 and D810 Filmmaker Kits. Attendees are encouraged to visit the booth to learn about the production possibilities with Nikon cameras and hear from some of the most innovative filmmakers today including Corey Rich, Dixie Dixon, Anthony Arendt, PES and Chris Hershman. Visitors to the Nikon booth can also discover a vast range of NIKKOR lenses and see first-hand the unrivaled clarity and sharpness that these lenses deliver for any project.

New Nikon DSLR Firmware:

The new firmware in development will be available for the Nikon D4S, D810 and D750, and will enhance capture workflow. With the new firmware, Atomos Shogun or Ninja-2 external recorders will recognize recording start/stop commands of the external recorder and can be synchronized with recording start/stop commands of the camera. This new firmware will provide greater support for recording of high-definition, uncompressed data that makes the most of the superior resolution of the D4S, D810 and D750, plus the excellent rendering performance of NIKKOR lenses to external recorders. Demonstrations of the firmware (which is currently under development) will be available at both the Nikon (#C8818) and Atomos (#C8825) booths from Monday, April 13 through Thursday, April 16. The firmware will be available in late Summer 2015 as a free download.

Nikon D750 and D810 Filmmakers Kits

For users who are looking to take advantage of the Nikon D810 or D750's advanced video capabilities, Nikon is now offering a Filmmaker's Kit for each camera that includes everything needed to get started in the world of cinema. The kit contains the camera, three NIKKOR lenses in popular focal lengths, including the AF-S NIKKOR 35mm f/1.8G ED lens, the AF-S NIKKOR 85mm f/1.8G lens and the AF-S NIKKOR 50mm f/1.8G lens; all of which provide stunning HD clarity and excellent depth of field control for filmmakers. The kit also contains two additional EN-EL15 batteries, an ME-1 Stereo Microphone, one Atomos Ninja-2 External Recorder, and Tiffen® 67mm and 58mm Variable Neutral Density Filters (8-stops) for superior control of light. In addition, the Nikon Filmmaker's Kits feature custom foam inserts, which are ideally sized for use in a hard case for transporting equipment to the next video production.