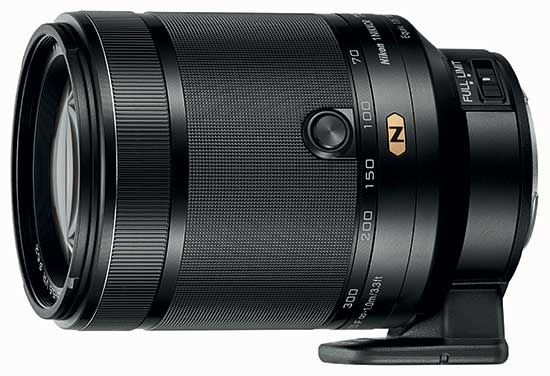 The Nikon 1 Nikkor 70-300mm f/4.5-5.6 VR lens is finally in stock at B&H, Amazon and Adorama.
Additional lens information:
MTF charts
Lens design
Product description
Super telephoto zoom for your Nikon 1
Now you can bring super telephoto capabilities to your Nikon 1 system with the compact, lightweight 1 NIKKOR VR 70-300 f/4.5-5.6 lens. Open an exciting new world of shooting opportunities—nature and wildlife, professional sports, concerts, performances and much more. With a zoom range equivalent of 189mm–810mm (35mm format) and advanced Nikon lens technologies like Super ED glass and Nano Crystal Coat, the 1 NIKKOR VR 70-300 f/4.5-5.6 packs the zoom power and outstanding performance of a massive D-SLR lens into a compact, lightweight 1 NIKKOR package.
Super telephoto zoom power makes nearly any shot possible
With the super telephoto power of the 1 NIKKOR VR 70-300 f/4.5-5.6 lens, exciting new shooting opportunities are around every corner. Shoot detailed close-ups of wildlife, concert performers, athletes, fast action and more. At its widest setting (70mm in CX-format, equivalent to 189mm in 35mm format), the 1 NIKKOR VR 70-300 f/4.5-5.6 is great for portraits, outdoor events, family fun—anything that requires a bit of zoom. Zoomed all the way in (810mm equivalent in 35mm format) it delivers the power.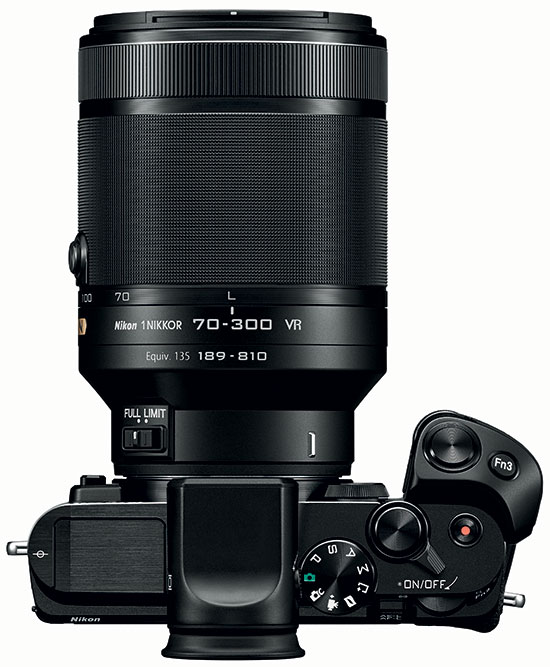 Compact and lightweight enough to take everywhere
The 1 NIKKOR VR 70-300 f/4.5-5.6 lens packs as much zoom power as the massive lenses you may see professionals hauling around at sporting events, yet it's compact and lightweight enough to comfortably carry all day. Like all 1 NIKKOR lenses, it's a well-balanced match to your Nikon 1 camera, making handheld shooting a breeze.
Nikon lens technology for consistently brilliant performance
For over 80 years, NIKKOR has been a leader and innovator in optical technologies, and the 1 NIKKOR VR 70-300 f/4.5-5.6 lens incorporates some of NIKKOR's most exciting advancements. Its the first lens in the 1 NIKKOR lineup to use Super Extra-low Dispersion (ED) glass, which provides stunning sharpness, contrast and color rendering. It also features Nano Crystal Coating (N), which nearly eliminates lens flare and ghosting for clearer, sharper images.
LF-N1000 Rear Lens Cap
HB-N110 Lens Hood
LC-N62 Front Lens Cap
Here is a quick hands-on review of the70-300 lens by Ken Haner:
I am sure that most photographers have the same dilemma as I do. When I am going on a photo shoot I grab my D800, 200-400 lens, 14-24 to cover wide angle. A couple of lenses in between, heavy duty tripod w/ball head a few accessories and I am all set.  When I am with my significant other and she wants to see the sights, I get asked "DO YOU HAVE TO BRING THAT BIG THING".  Keeping in mind, family harmony and she is a good cook. I needed another option. I did a lot of reading about the Nikon V3. Although it has a 1″ sensor, it also has 18mg"s, shoots in RAW, very fast everything, in a light weight body.
I took the plunge, and bought it with the 10-100 VR lens. Very surprised how good the photos are with the small sensor. Photographed my grandson running to first base, the colors, resolution, and sharpness are outstanding, all 10 photos were in focus. I can even take 20 FPS, all in full res.
We planned to go to D.C. and visit the ZOO. Perfect time to try out the new 70-300 lens that I received early. Keep in mind, this lens is VR, Nano crystal, ED glass and no adapter, and equivalent to 189-810. I left behind the big stuff with tripod and off we went to the zoo with 2 lenses. What a terrible day. Raining, dark and most animals were inside. I wanted to keep away from high iso"s, but shot most of the day between 800 and 6400. Lions and tigers were shot at 800mm, about 50-60 yards away. But got the tight shots I wanted, what you see is not cropped. The indoor photos were more difficult, birds behind wire screens, apes and pandas, etc. 1/2″ plexi, which was dirty with many reflections.
Overall very pleased with the V3 and 70-300 lens, very sharp great image quality. Weighs less than 2 pounds my tripod weighs about 5 pounds alone. One thing I do not like it takes Micro SD cards, very small and easy to lose, must be very careful.
Sample photos: