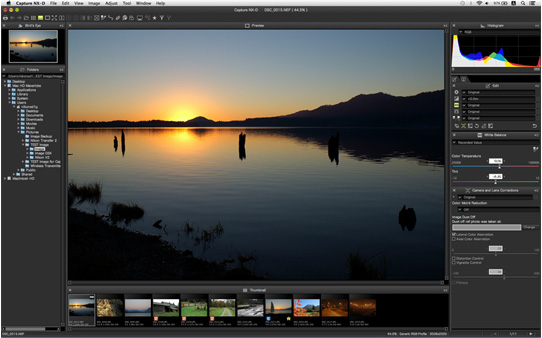 Nikon announced that their new RAW image processing software Capture NX-D will be available for free on July 15, 2014. There are plans to include automatic retouch brush functionality in the future:
TOKYO – Nikon Corporation is pleased to announce that it will release the official version (ver.1.0) of Capture NX-D, its new processing and adjustment software application for RAW images captured with a Nikon digital camera, for free download beginning July 15 (Tuesday), 2014.

Capture NX-D is a software application developed to allow users to enjoy full-scale development of RAW images with simple operations. It enables high-quality photofinishing of images captured in RAW format by Nikon digital SLR cameras, Nikon 1 advanced cameras with interchangeable lenses, and COOLPIX compact cameras that support this capability. The application will be available for download, free of charge, to allow those who own a Nikon camera to more thoroughly enjoy developing RAW images.

The official version of this application will reflect ideas and requests of users of the beta version with improvements to the user interface, and the ways in which adjustments are applied, for example, to white balance. Support for RAW images captured with the Nikon D810 digital SLR camera, which was announced today, has also been added. The improved Picture Control system, when working with Capture NX-D, allows for direct adjustments to images captured with the D810 and earlier Nikon cameras.

We also plan to effectively update software functions for better image processing and operation in response to many requests, including the addition of an automatic retouch brush.