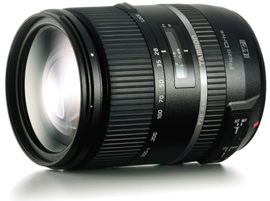 Tamron announced a new 28-300mm f/3.5-6.3 Di VC PZD full frame lens (Model A010) for Nikon DSLR cameras. The lens is priced at $849 compared to $1,047 for the similar Nikkor version. Additional information:
Product Highlights
State-of-the-art optical design technology delivers superior image quality.
The advanced optical construction of this lens includes four elements of LD (Low Dispersion) glass, three Molded-Glass Aspherical elements, one Hybrid Aspherical element, one XR (Extra Refractive Index) glass element, and one element of UXR (Ultra-Extra Refractive Index) glass, which has greater refractive index than XR. The full use of specialized glass elements in its design contributes to making this outstanding lens as compact and lightweight as possible, while minimizing aberrations, resulting in superior image quality. Particularly impressive is the thorough compensation of chromatic aberrations at the telephoto end, yielding images of enhanced clarity and crispness.
Focus on portability – The lens is now even smaller and lighter.
In addition to state-of-the-art optical design that facilitates downsizing of the lens body, the mechanical design leads to a smaller overall lens compared to the existing Tamron 28-300mm (Model A20). The incorporation of a highly sophisticated multi-stack-cam layout that takes up far less space as well as the PZD (Piezo Drive) AF, an autofocus drive system with a simpler, more compact structure, make it possible to reduce the overall dimensions of this lens. These technologies are the fruit of Tamron's more than 20 years of research and development in the high-power zoom lens field.
Advanced anti-reflection coating.
The application of BBAR (Broad-Band Anti-Reflection) coatings for suppressing reflections on lens element surfaces minimizes unwanted flare and ghosting to deliver sharp, crisp, high-contrast images.
Upgraded cosmetic design – Elegant tungsten silver brand ring.
Tamron has upgraded the cosmetic design and finish of this lens to create a more sophisticated, high-end look in keeping with the demands of discerning full-frame DSLR users. Employing a sophisticated linear pattern rubber grip on the zoom and focus rings and an elegant tungsten silver brand ring, this newly designed model accentuates its visceral presence with understated elegance and class.
PZD (Piezo Drive) delivers faster, quieter autofocus action.
The PZD (Piezo Drive), a standing-wave ultrasonic motor system, delivers faster, quieter, more precise action when the autofocus is engaged. The full-time manual focus system is easy and intuitive, enabling quick and convenient manual focus at any time.
Sharper images with VC (Vibration Compensation)
Tamron's acclaimed VC (Vibration Compensation) mechanism reduces image blur caused by camera shake to deliver significantly sharper images even when shooting handheld.
Circular diaphragm facilitates achieving spectacular blur effects
Using a circular diaphragm4 , this lens achieves spectacular background blur effects that enable creative use of depth of field.
Moisture-resistant construction for worry-free outdoor shooting.
Moisture-resistant construction helps prevent moisture from penetrating the lens.
Specifications
Model
A010
Focal Length
28-300mm
Maximum Aperture
F/3.5-6.3
Angle of view (diagonal)
75°23' – 8°15' (for full-frame format)
52°58' – 5°20' (for APS-C format)
Lens Construction
19 elements in 15 groups
Minimum Focus Distance
19.3 in (0.49m)
Maximum Magnification Ratio
1:3.5 (at f=300mm: MFD 19.3in)
Filter Size
Ø67mm
Maximum Diameter
Ø74.4mm
Length 6
3.8in (96mm)
Weight
19oz (540g)
No. of Diaphragm Blades
7 (circular diaphragm)
Minimum Aperture
F/22-40
Standard Accessories
Flower-shaped Lens hood
Compatible Mounts
Canon, Nikon, Sony