→ The Nikon instant lens rebates in the US were extend and are now valid till March 29th. I doubt that they will be extended again.


→ The regular Nikon DSLR body + lens rebates were also extended.


→ Up to $500 off Nikon D7100 kits.

→ The Nikon D610 received a new $100 price drop and now sells for $1,896.95 (incl. free shipping, accessories and 4% rewards). The D610 currently sells for $1,716.79 on eBay (grey market).


→ The price of the Nikkor 24mm f/1.4G lens also dropped to $1,899.


→ Nikon 1 J1 camera with two lenses on sale for $229.


→ New Nikon Coolpix A camera for $659 (grey market).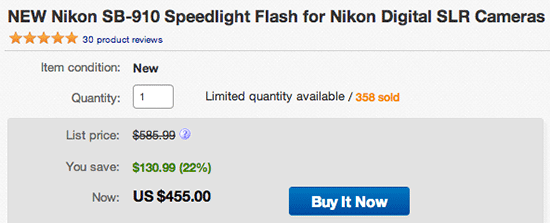 → New Nikon SB-910 for $455 (reg. $546.95).
→ There is also a new Spring Cashback promotions in the UK and Ireland: