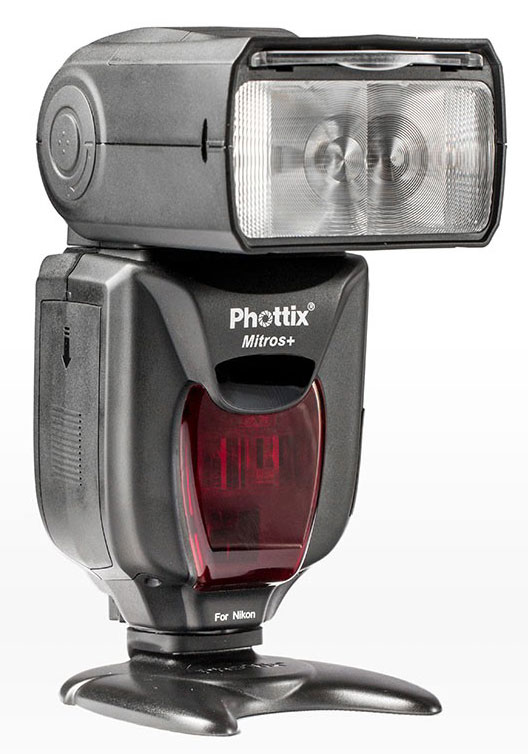 The Phottix Mitros+ for Nikon is now officially announced and is currently in stock. Additional details:
The Phottix Mitros is a powerful and durable hot shoe flash that has proven popular since it's release earlier this year. The Phottix Mitros+ adds significant functionality, allowing photographers to not only use the Mitros on or off camera for lighting, but to  also control and trigger remote flash by radio signal. The Mitros+ is a new industry landmark and was developed with input from wedding and event photographers.

Use the Mitros+ on-camera as a key or fill light, as well as control and trigger other Mitros+ flashes or compatible flashes using Phottix Odin Receivers. The Mitros+ also offers a built-in Phottix Odin Receiver and Strato II Receiver. Existing Phottix triggers, like the Phottix Odin or Strato II can be used to trigger the Mitros+ without extra receivers.
Main Features:
+ Built-in Odin Transmitter
+ Built-in Odin Receiver
+ Built-in Strato II Receiver
+ Memory Functions
Additional details:
GN: 58 Nikon-Compatible TTL Flash
Built-in: Phottix Odin Transmitter and Receiver, and Strato II Receiver
Optical Slave
Nikon-compatible Master/Slave IR Triggering Modes
TTL, Manual and Multi Stroboscopic Modes
FP Sync and Second Curtain Sync
AF Assist Light
External Battery Port, 3.5mm Sync Port
Quick Flash Mode
Technical Specification:
Modes: TTL, Manual, and Multi Stroboscopic
Guide No.: 58/190 (at 105mm focal length, ISO 100 in meters/feet)
Flash coverage: 17-105mm (14mm with wide angle diffuser panel)
Auto zoom (Flash coverage automatically adjusts to match the lens focal length)
Manual zoom (Zoom can be adjusted by changing setting on the flash/camera)
Rotation: 360 degrees, Up-Down: -7 to 90 degrees.
FEC (Flash exposure compensation): Manual
Sync modes: First Curtain Sync, Rear Curtain Sync, and High Speed Sync
Stroboscopic flash: Frequency: 1-100 Hz Number of flashes: 1- 90
Flash exposure confirmation: Blue LED lamp lights up in TTL mode
Flash Recycling (with size-AA alkaline batteries)
Recycling time/Flash-ready indicator:
Normal flash: Approx.0.1-5 sec./Red LED indicator lamp lights up.
Quick flash: Approx.0.1-2.5 sec./Green LED indicator lamp lights up.
Internal power: Four size-AA alkaline batteries or size-AA Ni-MH batteries
External battery: Compatible with Phottix Battery Pack and Nikon High-Performance Battery Pack SD-9 through specific adapter
Power saving: Non-wireless slave modes: 90 seconds, Wireless slave mode: (programmable) 10 minutes or 60 minutes
Wireless flash
Transmission method: Radio Frequency and Optical pulse
Channels: 4
Wireless options: Odin Tx, Odin Rx, Strato II Rx, OP Tx (Master), OP Rx (Slave), OP Slave, OFF
Transmission range (Approx.): Radio: 100m +, Optical: Indoors: 12-16m/39.3-52.4 ft., Outdoors: 7-9m/22.9-29.5 ft.
Reception angle: Radio: 360 ° all directions, Optical transmission:±40°(horizontal),±30°(vertical)
Controlled slave groups: 3 (A, B, and C)
Standby current: ≤100uA in sleep mode
Dimensions: (L x W x H): 202.8×77.5×58.3 mm
Weight: 427g (flash only, excluding batteries)