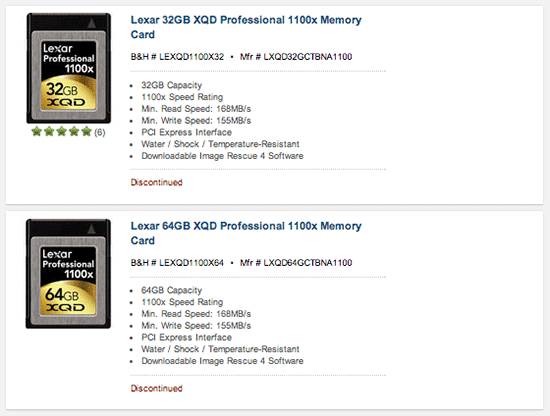 The 32GB and 64GB Lexar XDQ Pro 1100x memory cards are currently listed as discontinued at B&H. Lexar's XQD cards were just one year old. During the 2014 CES the company did not introduce any new XQD models, but they announced the world's fastest CFast 2.0 memory card that can reach read transfer speeds up to 500MB/s and capacities up to 256GB. Lexar XQD cards are still listed on their own website, Adorama and Amazon.
As of today, the Nikon D4 is the only camera that takes XQD memory cards. Even Sony's own models are still using SD cards (Sony was the first company to produce QXD cards). SanDisk already reported that they will not produce XQD memory cards. Is the XQD memory format dead already?
The upcoming Nikon D4s camera is supposed to have the same memory card configuration as the D4: one XQD and one CF slots.
I contacted Lexar for clarification on their future XQD plans and will update this post once I receive an answer.
Update: here is the answer I received from Lexar:
"Lexar remains committed to the XQD memory card format, and Lexar Professional XQD memory cards have not been discontinued. However, due to the popularity of the Lexar XQD cards, some resellers have sold out, and Lexar is working to re-supply them. We will provide updates when they are available."
Note that B&H has listed them as "discontinued" and not as "out of stock". Based on my previous experiences, when B&H marks something as discontinued, it really is, but all this could of course be just a mistake in their inventory system.