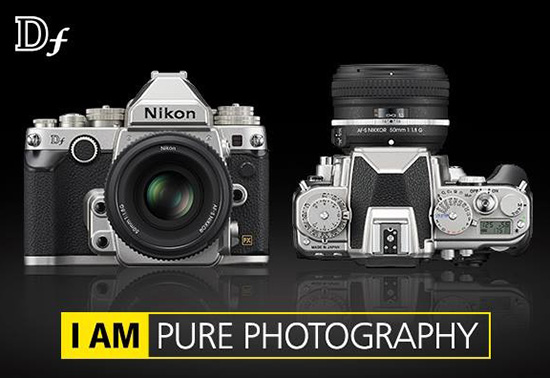 The Nikon Df is scheduled to start shipping later this week – on November 28th (Thursday). Here is some additional Df coverage:
The first Nikon Df hands-on reports started to appear on the Web. WhatDigitalCamera published an interview with photographer Jeremy Walker who was hired for the Nikon Df promo campaign:
WDC: When did you first get your hands on one?

JW: I was sent a pre-production model in July to handle and get used to before we actually met up for the shoot. And what was the first thing that I did? I fitted one of Nikons f2.8 zooms, the 24-70mm, and I have to admit was disappointed with the feel of the camera and the weight distribution.
It felt very front heavy and my hands didn't fit in with the ergonomics of it. However, as soon as I attached a prime lens it was a whole different story. The balance felt very good. In my opinion the Df is made for primes, and primes are what we did ninety percent of the shoot with.
Another Nikon Df hands-on report from Beau Photo:
Sadly, the focusing screen is not interchangeable, so there are no options for split-image or micro-prism collar screens. It seems to be pretty much the same screen as a D800 so, like virtually every other DSLR on the market, it is not particularly easy to judge sharpness when manual focusing with some slower or dimmer lenses. However the focus confirmation light does work with old MF lenses, so that might help in some situations. It may turn out that the screen is slightly better on the Df, but since I did not have the time to do any side-by-side comparisons, I cannot say for sure at this point. My gut feeling though is that it is not significantly different from a D800 screen.
A reader who had the chance to play with the Nikon Df sent me his opinion:
Felt decent in hand. Not bad.
Controls seemed like they would be easy to get used to once accustomed to.
Card slot is in the bottom w/ the battery. This will be a major PITA for people like me who leave their tripod quick-releases on their cameras.
Largest issue I see is a horrendous design flaw: the right side strap loop is in between the grip and front control wheel. That's going to get in the way of trying to change f-stops, etc.
Some new sample Df images with a hands-on report and a Df infographics (in Chinese, computer translated):

Another very detailed 30 minutes video introduction of the Nikon Df:
Update – the first Nikon Df unboxing images: