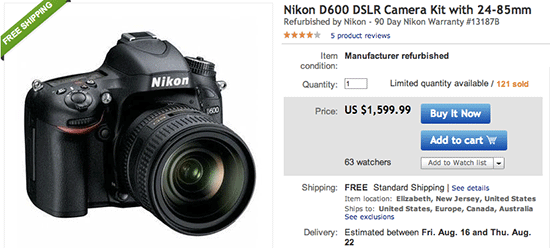 A refurbished Nikon D600 kit with the Nikkor 24-85mm f/3.5-4.5G lens is now listed for $1,599.99 with free shipping by Adorama on eBay (the same kit is priced at $1,859 on their website). The Nikkor 24-85mm f/3.5-4.5G ED VR lens alone costs $596.95 (new), a refurbished D600 body only is listed for only $10 less ($1,589).
Check also the one day sell on SanDisk memory cards at Amazon and B&H.
I will be on the road with limited Internet connectivity in the next 3 days. Blog posts and email correspondence could be delayed.