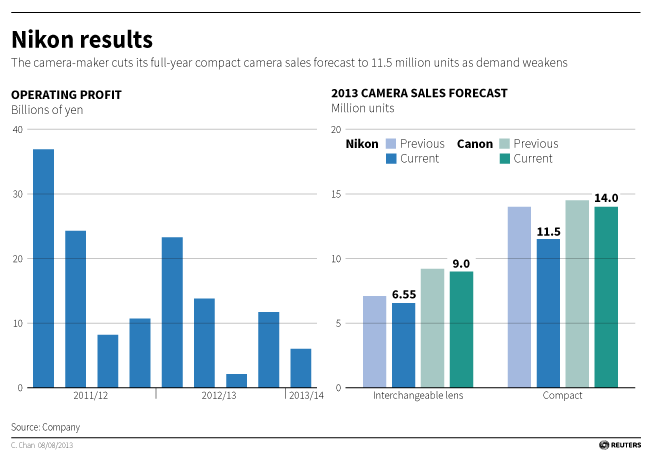 Nikon published their latest financial results and cut their future full-year forecast due to disappointing mirrorless cameras (Nikon 1) sales. The Nikon Imaging division now expects to sell 6.55 million units instead of the previously planned 7.1 million. The operating profit forecast was also cut to 65 billion yen from the previously projected 85 billion yen.
Nikon blamed US and Europe for their slow sales of Nikon 1 products:
"In Europe and the U.S. the ratio of mirrorless to SLRs hasn't grown at all, unlike in Asia, where it's quite popular with women because it's light. We had higher expectations for other regions. But people who like cameras tend to just go for SLRs, even though they're very heavy." (Nikon Imaging president Yasuyuki Okamoto via Reuters)
In contrast to US and Europe, mirrorless sales in Japan grew 16.8% this year. Compact camera shipments fell 48%.
In the future Nikon may start offering different products in different regions based on the local demand.
Here are few screen grabs from Nikon's presentation material: