Aptina announced a new 1″ 14MP sensor (AR1411HS) that can output full 14MP resolution at 80fps and is capable of shooting 1080p at 120 fps and 4k video at 60 fps. The official press release (attached below) describes a "strong interest from several top camera companies that have sampled the image sensor". Since Nikon uses Aptina sensors in their mirrorless cameras and you can already take short burst of 4k video with the  V1, I would not be surprised if Nikon announces the V3 mirrorless camera by the end of the year with 4k video recording capabilities.
Addition details on the Aptina AR1411HS sensor: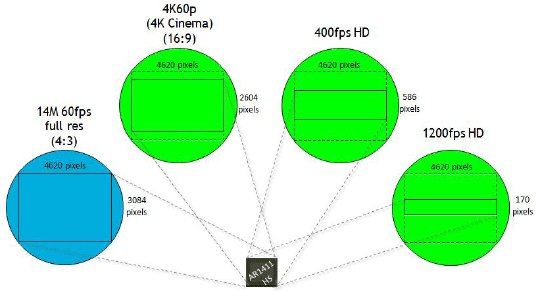 Aptina AR1411HS sensor features:
2.86μm pixel size with Aptina DR-Pix ™ technology
• 1/80 sec frame readout time, 1-inch optical size, 14MP imager
• 60 fps continuous readout in 14.2Mp full resolution mode
• 4K digital Cinema (4096H x 2016V) is supported
• Multiple operation modes including; 4K60fps, 1080p 120fps,
• High speed differential serial video output (HiSPi™)
• External master clock frequency 29.16 MHz
Press release:
Aptina Combines Stunning DSLR Picture Quality and 4K Digital Cinema Video in New Ultra-High Speed 14-Megapixel Camera Sensor

Advancing Imaging Performance for Mirrorless, Bridge and Broadcast Video Cameras

San Jose, CA, April 17, 2013 — Today Aptina announced a new 14 Megapixel (MP) CMOS image sensor for digital cameras, the AR1411HS, providing a unique imaging solution in the increasingly popular 1-inch format. By merging spectacular image quality with extremely fast frame rates, Aptina is enabling top consumer camera makers to develop the next generation of mirrorless, bridge, high-end compact, and broadcast digital video cameras. This sensor, which has attracted great interest from market-leading mirrorless camera makers, extends Aptina's high-performance camera sensor product line that was introduced with the 10 MP AR1011HS in 2012.

The AR1411HS image sensor competes at the highest level with an ultra-sensitive pixel, using Aptina™ DR-Pix™ technology to achieve superior image quality in both low-lit and brightly-lit scenes. This is combined with the ability to output the full 14MP resolution at up to 80 frames per second (fps) for an amazing 1.1 gigapixels/sec, 40 percent faster than its 10MP predecessor. The high-speed readout gives the sensor the capability of providing full 4K video at 60fps, in either the Quad HD (3840H x 2160V) or the wider Digital Cinema 4K format (4096H x 2160V), and a blazingly fast 120fps 1080p video mode, enabling slow-motion video capture without loss of resolution. This speed also gives the user the unique capability of grabbing full 14MP resolution still images without interrupting a super-sharp, oversampled 1080p HD video stream. "The AR1411HS image sensor delivers superior image quality and the ability to capture still shots and video very fast, in virtually any environment," said Sandor Barna, Vice President and General Manager of Aptina's Consumer Camera business. "This 1-inch sensor effectively bridges the performance and price gap between the smaller 1/2.3-inch sensors commonly used in compact digital still cameras and the larger APS-C and full-frame sensors that are used in DSLR cameras. Based on the initial success we are seeing in high quality HD-video enabled mirrorless cameras and strong interest from several top camera companies that have sampled the image sensor, we believe the AR1411HS is a game-changer."

Availability

Aptina's AR1411HS image sensor is currently in mass production.