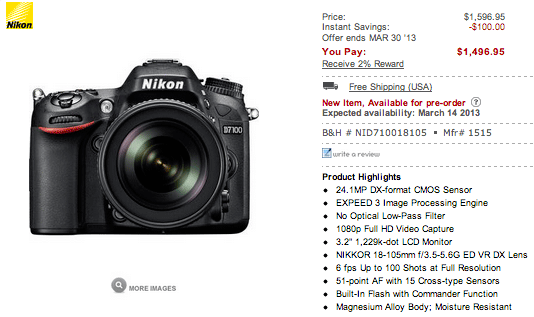 The new Nikon D7100 instant rebates are now live at B&H (for the additional savings, click on the Buy Together & Save link):
$100 savings for the D7100 + 18-105mm kit
Additional $200 savings on the Nikkor 70-300mm lens
Additional $150 savings on the Nikkor AF-S 55-300mm lens
Additional $100 savings on the the Nikkor 55-200mm lens
Additional $50 savings on the Nikon SB-910 flash
Additional $30 savings on the Nikon SB-700 flash
The free shipping and 2% reward offers are also valid. In addition, Nikon still has the up to $350 off Nikkor lenses offer and the Nikon DSLR bundle savings. All of those rebate programs are set to expire on March 30.
B&H will start shipping the D7100 tomorrow.
A new Nikon cashback program will be introduced in the UK tomorrow with the following savings:
Similar rebate programs are available also in Belgium and France.