Nikon filed two different patents (2012-230133 and 2012-230340) in Japan for a 58mm f/1.2 lens:
Patent release date: October 22, 2012
Patent filing date: April 4, 2011
Focal length: 58.0220mm
Aperture: 1.210
Half angle of view: 20.81°
Image height: 21.6mm
Lens length: 108.8935mm
Back focus: 38.0120mm
The legendary Ai Noct Nikkor 58mm f/1.2 lens, that was introduced back in 1977 and discontinued in 1997, is one of the fastest lens Nikon ever had (at some point they did produce the very rare 50mm f/1.0 lens). The Noct-Nikkor had some very specific characteristics:
"Because this lens has a Aspherical front lens element which assures optimum correction for coma, particularly at maximum aperture, it makes bright point sources of light near the corner or edges of the image appear as dot rather than comet-shape blurs. Meaning to say, this lens is make to perform its best at maximum apertures, which other lenses find it hard to restore their optical performances. Over the years, the continual refinements has made it possible to focus down as close as 0.5m (1.7 ft) distortion free while contrast remains high."
The design of the old 58mm Noct lens is similar to the patented lens: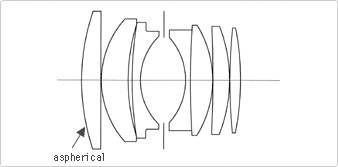 Read more about the Ai Noct Nikkor 58mm f/1.2 lens (including some sample images) on Nikon's website. Check also this group on flickr.
Nikon is still selling the manual focus Nikkor 50mm f/1.2 AIS lens. The Nikkor-Noct 58mm f/1.2 lens currently sells on eBay for $3-$4k.
Back in 2010 Nikon also filed a patent for a new 50mm f/1.2 lens.
Let's hope that we will soon see a modern AF-S version of the 58mm Noct.