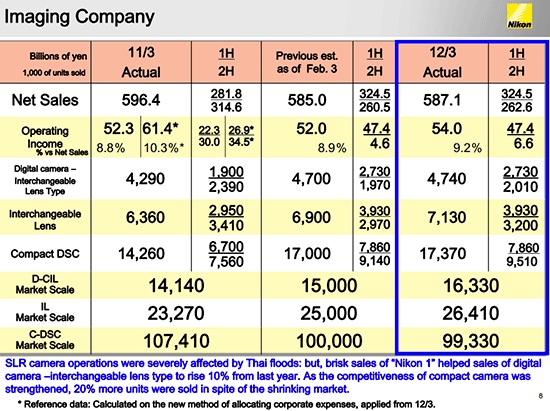 Nikon announced their financial results and new cash dividends for the year ending on March 31, 2012. The company again reported better than expected financial numbers even after the series of disasters in Asia last year. As a result, the stock price went up over 8%. Nikon remains a profitable company in times where almost every other major camera manufacturer announced losses:
In 1st half, all product groups sold well. In 2nd half, although SLR cameras were affected by Thai floods, new "Nikon 1" launch was successful. Compact camera continued to expand the market share throughout the year. These helped minimize the amount of sales/income reduction from the previous year.
Summary of Nikon Imaging Company estimations for next year (ending March 31, 2013):
"Aim to bring SLR cameras back to the expansion path and focus on sales expansion of "Nikon 1" and compact cameras. Both sales and income are expected to rise 24% and 48% each."