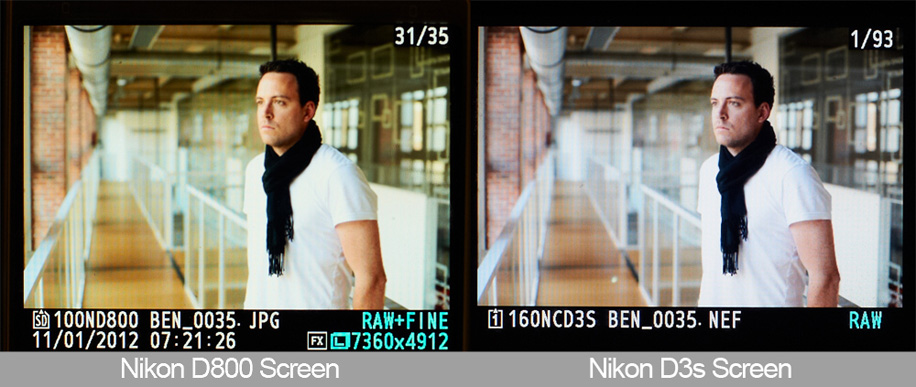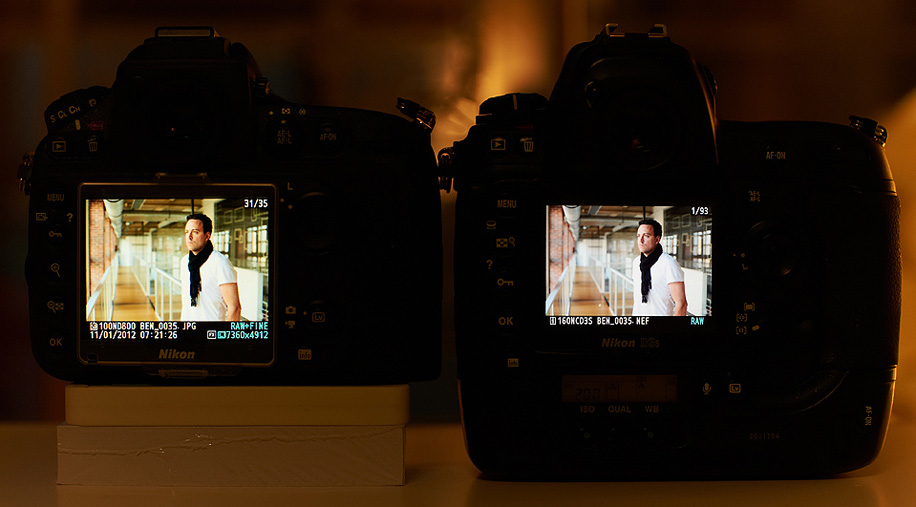 Listed below are several Nikon D800 issues reported by readers. If you have experienced any other problems with your new camera, please describe them them in the comments section.
You can see the first issue in the above two images (click for larger view) – the Nikon D800 LCD screen has a green cast on some images. Several people emailed me about that. The actual files are fine and the problem seems to be with the LCD screen. I got something similar when I was playing with the camera, but I think mine was related to the WB/shutter selection. This discussion on flickr suggests that the green cast could be fixed by adjusting the LCD monitor hue – see page 52 of the D800 manual (images credit: Benjamin Brolet).
Check your CF and SD card compatibility (page 434 of the D800 manual). There could be issues with cheaper/older memory cards – see this post.
The next issue involves tethered shooting: "We met up today and he asked if we could check my D800 behavior in manual exposure mode with live view on and/or camera control tethered to the camera. He had found that his D4 had an issue that when in live view in manual exposure mode, the live view or computer window view would stop down as you decreased aperture or increased  shutter speed. At smallest apertures it was impossible to see what you were focusing on, kind of like a "full time depth of field preview". This problem could not be remedied unless you momentarily tapped the shutter to autofocus, but then the view would go dark again. This problem doesn't seem to be present when using live view in any automatic modes, only full manual mode. My buddy contacted an individual at Nikon that verified the behavior on a D4 there at Nikon. Apparently the individual was a bit surprised by the development and told my buddy that he will need to check this out further and get back to him. Back to my D800; the problem is also present on my D800 firmware 1.00. This will make tethered studio shooting difficult unless corrected." (thanks Son of FE)
Update: here is another Nikon D4 issue (thanks Daniel):
I like to have my multi selector during playback set so that vertical move flips through photos and horizontal move cycles info screens.
I have tried both settings her and they all stay the same at opposite — horizontal move flips through photos and vertical move cycles info screens.
The option when u select it gives you.
Same as multi selector or focus point selection.
If you select Same as multi selector then you get 2 options for which way you want the controls to work.
Either setting results in the same behaviour i don't like.
This worked fine on my D3 and D3S.