This is the last Nikon 1 recap, I promise:
AP:  a senior Nikon official said that Nikon is not worried if Canon announces a mirrorless camera with a larger sensor
All Nikon 1 products are made in China.
Nikon J1 is really small – here it is next to a smart phone (from the event in Bulgaria):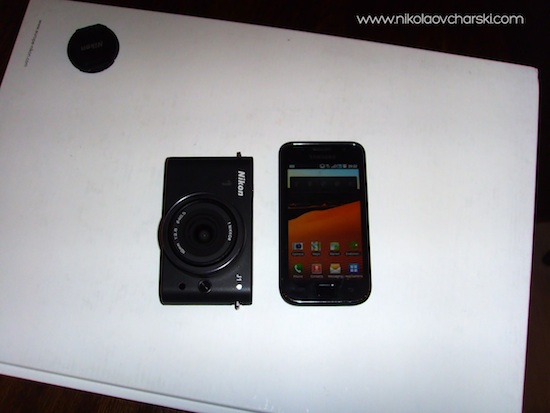 ISO comparison from 800 to 3,200 between the GF3 and J1 from Cnet Asia: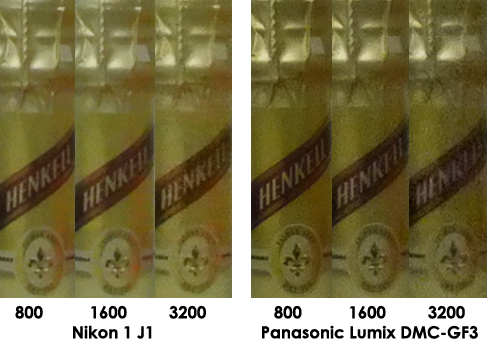 ISO comparisons with different cameras from focus-numerique.
DSLRMagazine also has done some Nikon 1 V1 tests.
More Nikon J1 image sample comparisons with other mirrorless cameras available at digitalcamerainfo.
Some quotes of the imaging-resource interview with Masahiro Suzuki (General Manager, Research & Development Department):
When we started with this development, it was quite some time ago, it was prior to the Micro Four Thirds launch (almost four years ago)

We are quite confident that we achieved almost exactly the same quality as our DSLR

(Oh the Nikon 1 sensor) We developed it; we engineered and developed this sensor inside Nikon. But for the production side, that is done by our partner.
Nikon 1 hands-on:
Motion Snapshot video demo:
Test Nikon V1 : 1200fps, 40fps & 60fps full HD from Rob1 on Vimeo.
More Nikon product videos:
Interview with the product manager of Nikon UK: