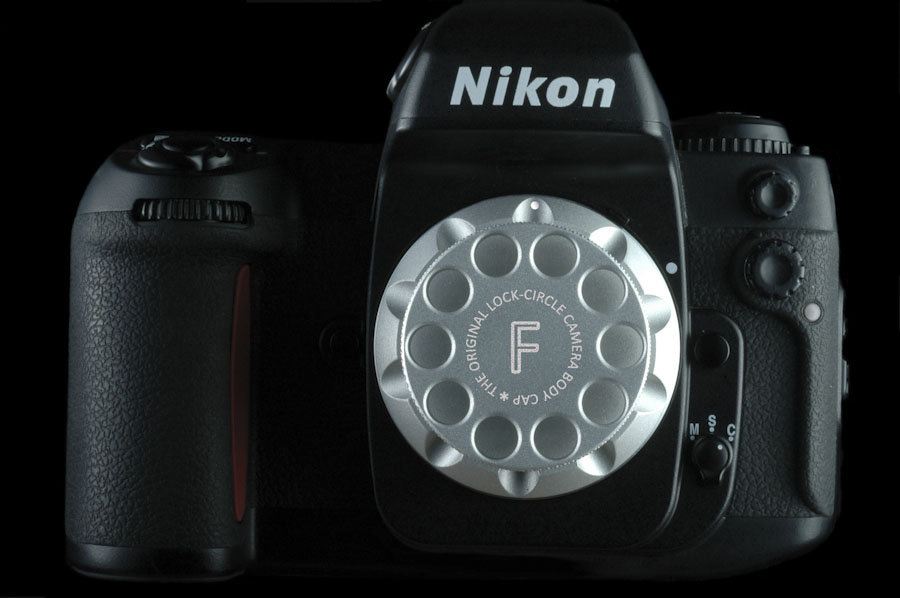 LockCircle released the Nikon version of their aluminum body cap that is available in three different colors and costs $79:
The LockCircle billett aluminum camera body cap is the ultimate eye catching accessory for your professional F-Mount camera! The knurled edge and the exclusive finger-fit design provides extra-grip in every climate shooting session. Designed for total functionality without compromise! Machined from solid billett aluminum features sanded textured surface with clear, titanium or black anodized finish. The highly precision F-Mount bayonet locks the cap in position with a "swiss watch" feeling, providing the necessary seal from dust or moisture. The LockCircle was designed from the ground up to the most seamless and functional camera professional body cap. Available right now for F-mount, delivery scheduled for first days of September. After the huge success of the LockCircle EF-Mount launched last month the new production run was improved and price lowered.
Precise F- Mount bayonet built with ultra-precise specifications with a hole cut in the flange where the camera locking pin locks securely inside.
Bayonet limit screw for safety locking position, works like the original bayonet of the lens.
To remove the LockCircle, the locking pin button on the camera has to be pressed and the cap can be removed, exactly like a lens.
The aluminum bayonet has a hardener and porosity occlusion treatment to make it last forever, without any release of particles inside the camera body.
The flange sits on the the body bayonet and seals completely the camera from the elements.
All the surface of the flange and the camera bayonet ring are locked strongly in contact by the spring-loaded mechanism of the bayonet mount.
Important design and testing has be done in the LockCircle section in the camera electrical contact area.
It is impossible to touch the camera contacts by mounting the LockCircle.
Special knurled surface and finger-fit ergonomic design for secure removal with sweaty hands or wearing heavy gloves. Solid grip in productions on the run.
Tested on the field by professional photographers..
Laser Marking
Can't be called just a cap, is a serious camera body locking door for professional photographers!