Two days ago Nikon released a new free software called Regsweeper which will remove all registry entries after uninstalling Nikon software from your Windows based computer:
What is Regsweeper?
After uninstalling a Nikon software application from Microsoft Windows some associated files remain on the operating system. Running Regsweeper will completely uninstall all files installed by the Nikon software including the registry keys.

Why use Regsweeper?
In some rare cases when trying to re-install Nikon software some problems may occur. Running Regsweeper to ensure the system is completely clean of all previously installed files for that application will ensure there are no issues. User deletion of the registry files is not recommended as it may cause further problems, Regsweeper automatically removes these files cleanly.

…

Supported software: Camera Control Pro, Camera Control Pro 2, Capture NX 2, Nikon Transfer, Nikon Scan 4, ViewNX, ViewNX 2 32 bit, ViewNX 2 64 bit.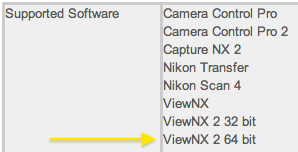 64 bit ViewNX 2? This must be a typo or Nikon will soon release a 64 bit version of their editing software. According to the ViewNX 2 specifications page, currently there is only a 32 bit version:
If you use 64-bit version Windows 7 or 64-bit version Windows Vista, operation takes place under 32-bit compatibility environment.