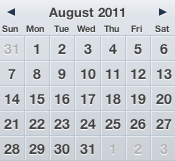 Certain Nikon offices have already blocked employees from taking vacation in the last two weeks of August 2011. Expect major announcements during that time frame (my guess: D3s and/or D300s replacement). This is not really surprising, since Nikon likes to make announcements at the end of Summer (the D3, D300, D90, D3100, D7000, many lenses and Coolpix cameras were all announced around that time in the past few years). End of August announcement will also give Nikon the opportunity to show the new products at CliQ 2011 in Las Vegas (September 6-11, 2011).
There should be at least one major product announcement before the summer (my guess: D700 replacement).
Regarding the upcoming Coolpix line refresh – it will probably happen around February 8-15, 2011. It is still unknown if the point and shoot cameras will be the only announcement next month.