Nikon patent application 20110007403 is for a new full frame 200-500mm f/4-5.6 lens:
"The present invention is made in view of the above described problem, and has an object to provide a zoom optical system capable of coping with the problem of variation in aberrations upon zooming and obtaining excellent optical performance, an optical apparatus equipped with the zoom optical system, and a method for manufacturing the zoom optical system."
Two different lens designs were proposed in the patent: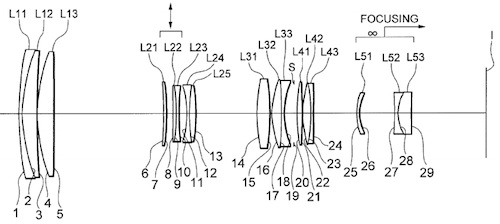 For comparison, here is the lens diagram of the current Nikkor 200-400mm f/4G ED VR II version - the new design with variable aperture will reduce the size of the lens body (the 200-400 f/4 is a monster):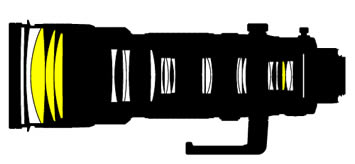 In the past few months, Nikon has filed several high-powered zoom patents for Nikkor 100-400mm f/4-5.6 and 80-400mm f/4.6-5.4 lenses. I strongly believe that one of those high-powered zoom lenses (or a similar variation) will be announced in 2011.