Focus of Imaging show will take take place from March 7-10th, 2010 in Birmingham, UK.
Nikon will be present at the show. Their schedule of events can be found here or here. Of specific interest are the two "PRESS MORNING" (why the CAPS?) slots from 10:45 and 11:45 on Monday morning, March 8th, 2010. Both are "by invitation only" which is a good sign: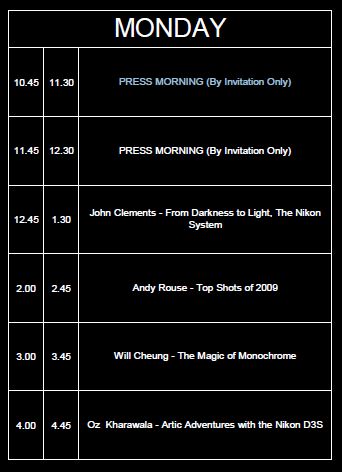 This could be a regular press event without an actual announcement, just like the one we had @ PMA and am I going to be very pessimistic this time, unless I receive information that similar events are scheduled in different countries on the same date, then we will have a BINGO! Stay tuned for that.
Just a reminder that last year Nikon France did leak the text "Presenting new DSLR" as a part of their schedule for Paris Expo (see spy shots of the Nikon booth here). The Nikon D3s was announced the same day (October 14/15, 2009).
Update#1: I was asked if Nikon ever announced a new product on Monday and the answer is yes: the Nikkor AF-S 50mmm f/1.4G lens was announced on September 22nd, 2008 which was a Monday and so was the Nikkor AF-S 35mm f/1.8G DX on February 9th, 2009.
Update#2: Interesting: Pentax and Panasonic are also expected to have announcements in that week (March 8-12, 2010).