Update: Similar camera to the one described in this patent is just to be announced by Samsung.
According to patent applications 20090307322 Nikon is thinking about integrating an email client into a point and shoot camera:
"A digital camera comprises an image-capturing unit that captures an image of a photographic subject and acquires image data, a communication unit for sending and receiving electronic mail data including image data, a recording control unit that records the image data acquired by the image-capturing unit as photographed image data upon a recording medium, an email for sending creation unit that creates an email for sending, to which is attached an image based upon the photographed image data recorded upon the recording medium, and an email address setting unit that sets an email address as the destination of the email for sending. The email for sending creation unit creates a title or a text of the email for sending, based upon at least one of the photographed image data and the email address that has been set."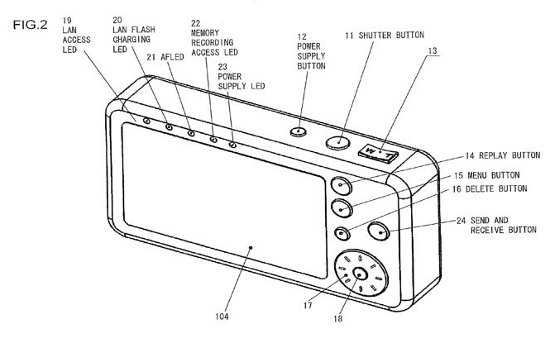 The whole menu, including the different screens layout, are described in details here: