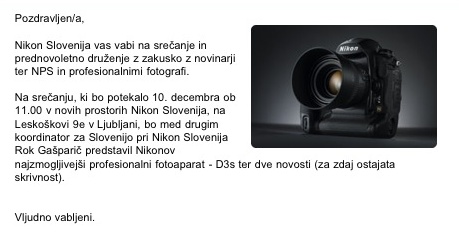 Maybe I rushed to judgement with my previous post "That was it for 2009" because I just received an invitation from Nikon Slovenia for a Nikon event on December 10th, 2009 (Thursday next week). The email invitation is legit and was sent to NPS members and journalists. Google translation of the invitation (updated):
"Nikon Slovenia invites you to meet and have a pre-new year get-together with appetizers, alongside journalists, NPS and professional photographers.

The event which will take place on December 10th at 11:00 at Nikon Slovenia's new building in Ljubljana, Leskoškova 9e; will have Rok Gašparič the co-ordinator for Slovenia at Nikon Slovenia, presenting among other things, Nikon's most powerful professional camera – the D3s and two more news (remaining a secret for now)."
And two more secret news? Nikon Slovenia just moved to a new building and the mystery news may not be related to a new product.
If anyone else (from a different country) has received an invitation for a Nikon event next week, please drop me a line.