Redrock brings us a line of products that will turn a video enabled DSLR (Nikon D90) into production-ready cinema solutions:
Video Digital SLRs (35mm digital still cameras) now produce amazing high quality HD video and deliver the advantages of 35mm lenses, but remain awkward for use in video and movie production. To meet the needs of filmmakers who are taking advantage of this cutting edge approach, Redrock accessories bring the needed cinema form factor, support, and features to video DSLRs.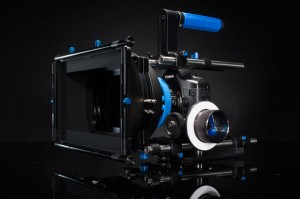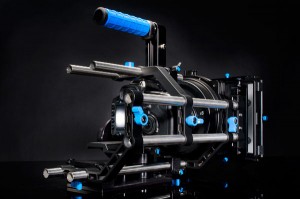 Redrock accessories for video DSLRs transform video DSLRs into production-ready cinema solutions by providing:
Rock-solid 15mm support system
Follow focus for accurate and repeatable focusing
Swing-away mattebox for light management and easy access to changing lenses
Shoulder mount and handgrips for steady handheld use
Support cage for enhanced stability and low angle shot
Redrock video DSLR Bundle Benefits:
Convenient form factor and weight of video/film production system
Modular design: add only the pieces you want, and build as your needs grow
Compatible
Industry standard 15mm lightweight rods for stability and compatibility with other products
Redrock video DSLR Bundle Product Configurations
Standard Bundle
machined aluminum baseplate, 15mm lightweight rod configuration
quick release camera system and dovetail
2x 12″ 15mm stainless steel rods
shim kit (for vertical height adjustment of rods)
DSLR cage & top handle
2x 12″ stainless steel 15mm rods
2x 9″ stainless steel 15mm rods
microHandle with adjustable angel rotation attachment
Related accessories
microFollowFocus
microMatteBox
microShoulderMount
Availability: video DSLR bundles will be available in our online catalog starting October 28th, 2008.