According to this site "Nikon is launching a campaign until December, to make a gift of 499 Euros if you buy a D300. The manufacturer offers in effect the "booster kit", ie a handful vertical with battery EL-EN4 of D3 professional SLR" (Google translation). This should increase the burst rate to 8 frames per second and should make the D300 more attractive compared to the D90 (hey this is not my opinion, so keep me out of the D300 vs. D90 discussion).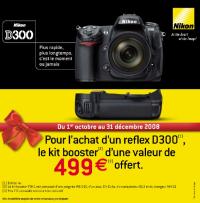 No mentioning whether this would be a world-wide event, but this is the fourth rumor of an upcoming Nikon rebate program (see here, here and here).
Sponsor: Amazon: no payments, no interest for 12 months on select camera, photo & video products
.