Hiking & landscape photography with the Nikkor Z 70-200mm f/2.8 lens by Marco Battini (Blog | Instagram | Flickr | YouTube):
If I had to name my favourite landscape photography lens, that would be, without a doubt, the Nikkor Z 70-200 f2.8. This is the lens I am looking forward to shooting landscape photography with the most. However, is it the lens I use the most? No. Is it the lens I have the most fun with? Yes! ..and by far. There are several different reasons why. In this article, I will hopefully be able to show you why I like this lens so much, how I use it and why.
I am a big fan of shooting landscapes with telephoto lenses, so the Nikkor Z 70-200 was a must-have when it came out. I previously used Nikkor 70-200 VRII version on my Nikon D800, so I've been using this focal range for a very long time. Occasionally at the beginning, but I ended up bringing this telephoto lens with me more and more.
First, a quick note: this will not be a technical post. There are plenty of those out there on the internet. Instead, as a hiking photographer, this post will be focused on how I use the lens on the trail for landscape and why. I will show sample photos for anyone interested in the image quality and to see how this lens performs for Landscape.
Hiking with the Nikkor Z 70-200 f.2.8
Like most hikers and photographers, I am very weight-aware when I go hiking. My camera gear is a Nikon Z7 II, the Nikkor Z 14-24 f2.8 lens, the 24-70 f4 and my favourite lens: the 70-200 f2.8. I also have a drone, an action camera, time-lapse gear for the occasional filming, plus a tripod and a variety of filters. I rarely bring all this gear with me as the weight quickly adds up
As I mentioned earlier, while this is the lens I have the most fun shooting with, I do not always have it with me. As someone who regularly goes on 20+ km and 1500+ m elevation gain day hikes, I pay a lot of attention to the gear I bring. This does not only apply to the 70-200 f2.8 but to all of my camera, hiking and camping gear.
For example, If there is no reason to bring the 14-24 f2.0 or my drone, I will leave them at home too. I am actually more likely to have the 70-200 rather than 14-24 when I'm hiking up a mountain.
Anyway, here's how I decide whether it is worth bringing the telephoto lens or not. First, I research each trail thoroughly, using 3D and topo maps to study the terrain and its feature, points of interest and research other people's photos. Hiking and Outdoor sites and apps, although not focused on photography, always have an invaluable wealth of information to offer, so it pays to spend time on those sites or apps.
Then I combine all that information to assess which lenses make the most sense bringing with me. So when I decide to bring the 70-200 lens with me, I can safely say it'll be a happy day!
Why choose 70-200 f 2.8 vs 70-200 f.4 for Landscape Photography
Well, we all know there isn't a native Nikkor Z 70-200 f4 lens yet. While I would have looked into this option had an f4 version been available, I likely not have bought it either. Yes, it would be cheaper and a lighter lens to carry around, but I like to have the option to use a shallower depth of field and wider aperture when certain conditions require it. Plus, when shooting in low light conditions, the wider aperture allows me to go handheld instead of setting up a tripod. This is, of course, a matter of personal preferences, and the thoughts above are just to explain my own decision process on why I've always chosen an f2.8 version over an f4.
I sometimes wish I had a little more reach than 200mm, let's say, about 20% of the time. Still, as much as I'd like to shoot with the 100-400, I'd rather have the wider aperture that the 70-200 offers when I needed it, compared to the extra reach of the 100-400. Of course, I can still crop in post if need be.
I won't get into the details of the image quality of this lens. However, I previously used the Nikkor 70-200 f2.8 VRII, and I can say the image quality of the Z version is noticeably better to the naked eye.
Using the Nikkor Z7 II for Landscape
Hiking, to me, usually means getting atop mountains, where there are wide open views. I usually look for distant subjects. Looking at geographical features from a different perspective. Looking at landscape subjects from afar helps find new perspectives on landmarks that have been photographed several times too.
Also, the main benefit here is how many compositional opportunities this situation offers. I can easily spend an hour on top of a mountain taking photos in different directions and different light. This works particularly well in the early morning or late evening, around sunrise or sunset, when the light changes fast.
Personally, the main benefits such a lens (like any other telephoto lens) offers for landscape are Subject isolation, Compression and the Compositional choices it offers.
Subject isolation allows focusing the image on a single subject, like a distant or unreachable feature. While in this case, it may seem easy to just focus on a distant subject, equal attention has to be given to what is going to be left outside the frame, i.e. possible distracting objects or other features.
Compression makes it possible to create compositions that include multiple layers of nearer and more distant objects, making it look like they are all much closer than in reality.
Image 9. Caption: Fagradalsfjall 2022 Eruption. An example of compression.
Compositional choices; last but not least, this is my personal favourite and the reason why I spend a lot of time on top of mountains shooting with this lens. You can find dozens of different compositions all around you by literally turning around in the same spot!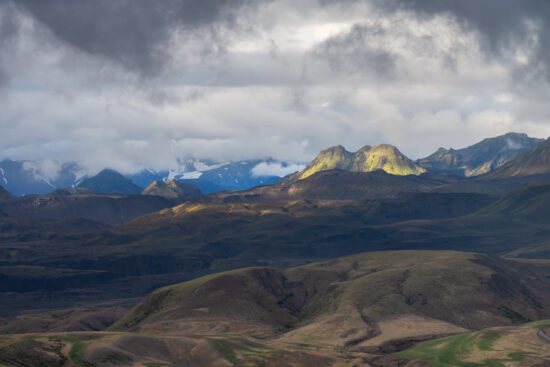 All of the three previous images were taken from exactly the same spot, the top of Valahnukur in Thorsmork, Iceland.
Moonset and Sunrise, photographed 45 minutes apart , from the top of the same mountain, the Grosser Mythen in Central Switzerland. Good examples of compression too.
Bonus: the occasional Wildlife
While I am not a wildlife photographer, it is great to have the option to photograph the occasional wildlife or animals when the occasion arises. Even if you are not actually looking for them, it's also great fun to try whenever possible. Whoever spends a lot of time outdoors or on the mountains is bound to come across some wildlife.
You can follow Marco Battini at:
If you have an interesting idea for a guest post, contact me here.
Previous coverage of the Nikkor Z 70-200mm f/2.8 lens can be found here:
Interview with Nikon engineers on the Nikkor Z 14-24mm, 24-70mm, and 70-200mm f/2.8 lenses