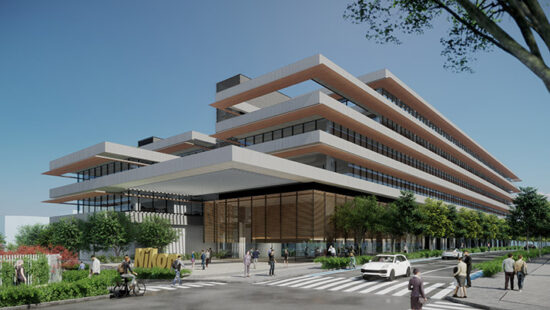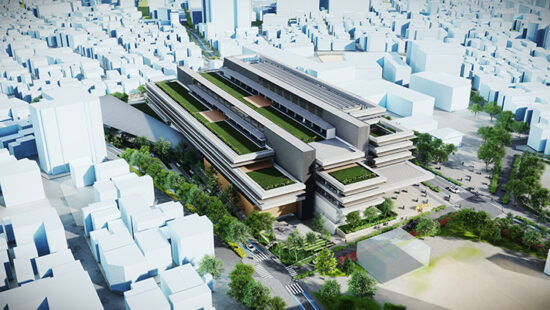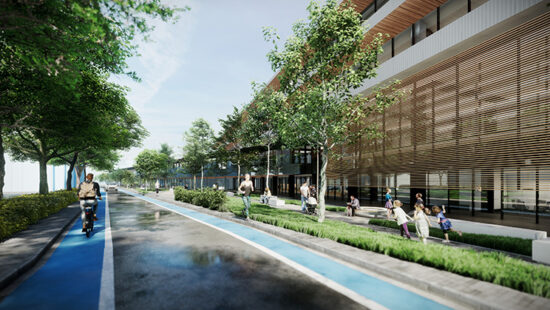 Nikon announced the start of construction for their new head office in Tokyo. Completion is expected in May 2024. Here is the full press release with some additional information: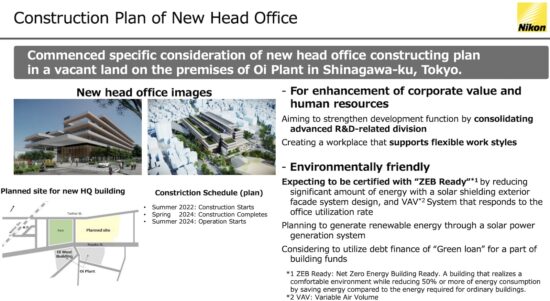 Announcement Regarding Construction of a New Head Office with Funding from Green Loan
TOKYO – Nikon Corporation (Nikon) is pleased to announce the start of construction of a new head office with funding from Green Loan*1 for part of the expenses required. Construction will commence in July 2022, with completion expected in May 2024.
As previously announced on November 4, 2021, Nikon has been planning construction of a new head office on vacant land within the premises of Oi Plant in Shinagawa-ku, Tokyo. It aims to create an office place that promotes digitalization and a workplace that supports flexible work styles. It is also planned to be an environmentally friendly office building that is rooted in the local community, with an emphasis on sustainability.
Specifically, the building is designed with a solar-shielding exterior facade system to reduce the energy required for air conditioning, as well as being a structure that promotes natural ventilation and allows plentiful daylight into the interior. In addition, it will be equipped with a VAV (Variable Air Volume) System that responds to the office utilization rate. The combination of these systems significantly reduces the amount of energy that the building uses, and the new head office is expected to be certified with ZEB Ready*2 and acquire the highest five-star rank of BELS*3. The building is also planned to generate renewable energy through a solar power generation system.
A part of the construction costs of the new head office is funded from the syndicated term loan of Green Loan that is limited to projects in which environmental efficiency is considered. The loan was rated at the highest Green1 (g1/m1) by Japan Credit Rating Agency, Ltd. This shows that the construction of the new head office was evaluated as a project in which adequate environmental improvements can be expected and careful consideration is given to avoiding potentially negative effects regarding environmental and social aspects.
The planned construction site, Oi Plant, is a place where Nikon has had its base for over 100 years and has produced various products and services. With its new head office, Nikon will continuously contribute to a better sustainable world.
*1

Green Loans are used to raise funds for domestic and overseas green projects. Characteristics of Green Loans include allocation exclusively to Green Projects, while transparency is ensured by reporting after financing.

*2

ZEB Ready: Net Zero Energy Building Ready. A building that realizes a comfortable environment while reducing 50% or more of energy consumption via energy-saving methods compared to that required for ordinary buildings.

*3

BELS: Building-Housing Energy-efficiency Labeling System. Energy-efficiency performance of buildings and housing is evaluated and authorized by a third-party organization. Performance is rated in five grades designated by the number of stars.
New Head Office Overview
Name
Nikon Corporation Head Office
Construction Site
5480-1, Nishioi 1-chome, Shinagawa-ku, Tokyo, etc.
Site Area
Approx. 18,000 m2
Total Floor Space
Approx. 42,000 m2
No. of Floors
6 floors above ground
Building Structure
Steel Construction, Base Seismic Isolation Structure
Design Architect
Mitsubishi Jisho Design Inc.
Construction Contractor
HAZAMA ANDO CORPORATION
Schedule (Plan)
Construction Starts: July 2022
Construction Completes: May 2024
Operation Starts: Summer 2024
Outline of Green Loan
| | |
| --- | --- |
| Contract Date | July 7, 2022 |
| Arranger/Agent | MUFG Bank, Ltd. |
| Amount Borrowed | 10 Billion Yen in Total |
| Uses of Funds | Construction of Green-Eligible Building |
| Participating Banks | The Joyo Bank, Ltd., The Hyakujushi Bank, Ltd., The Bank of Kyoto, Ltd., The Shiga Bank, Ltd., Sumitomo Mitsui Banking Corporation, Resona Bank, Limited, The 77 Bank, Ltd., Mizuho Bank, Ltd., The Shizuoka Bank, Ltd. |