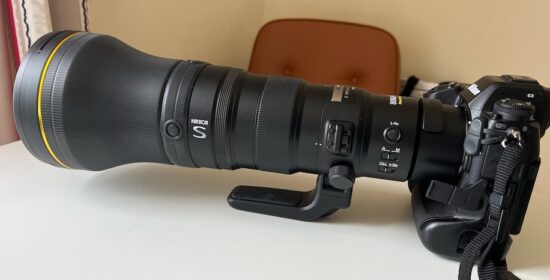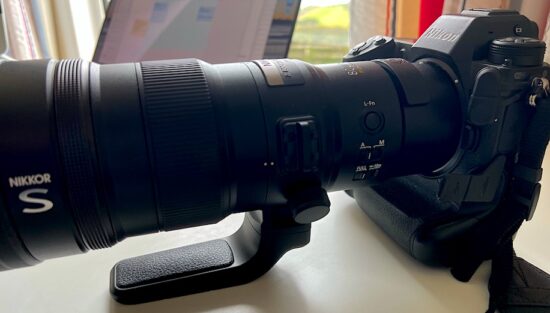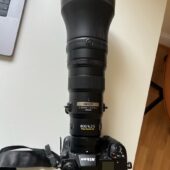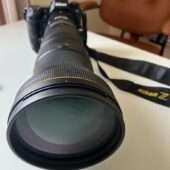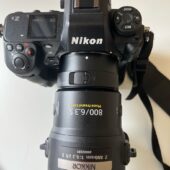 Nikon Nikkor Z 800mm f/6.3 VR PF S lens reviews and additional coverage (the lens is already shipping):

→ Jeffrey Lübeck has done seral blog posts on the new 800mm Z lens:
---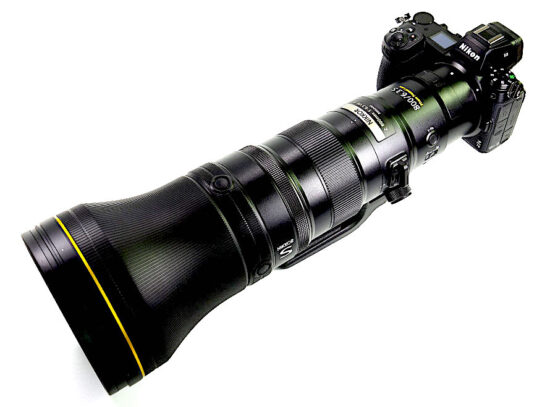 → Nikkor Z 800mm F/6.3 VR S lens review at Ephotozine:
"Whether shooting long-range sports, birds or animals then the extra reach of an 800mm lens can make all the difference. It is still important to be in the right place, as on its own no lens can be long enough, but being able to fill the frame with small birds from a reasonable distance is amazing. It comes at a cost of course, but those who are dedicated to long-range shooting will find here a great lens at a very reasonable price, relative to the hugely more expensive larger aperture options. The Synchro VR is incredibly efficient and this makes handheld shooting a viable option as well. Overall, another fine Z series offering from Nikon, and one that can be Highly Recommended."
Pros:
Excellent sharpness
Reasonable weight and bulk
Effective VR (Vibration Reduction)
Usable handheld
Phase Fresnel lens element for reduced CA
Low vignetting
Low distortion
Low flare
Fast and whisper-quiet AF
Weather sealing
Programmable control ring
Memory buttons
Cons:
Large lens needs practice to handle easily
Potential PF flare
Price inevitably high
---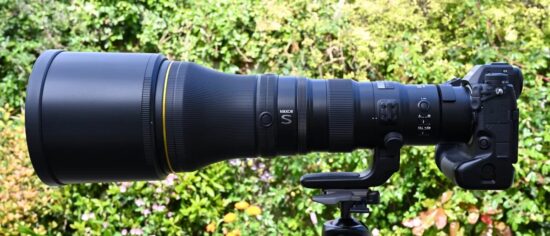 → Nikon Z 800mm f/6.3 VR S lens review at Digitalcameraworld:
"This lens gives you telephoto super-powers in a relatively lightweight package. The downsized build comes courtesy of a modest f/6.3 aperture rating and a Phase Fresnel optical element, a technology that's commonly used to focus the beam in a lighthouse. The addition of highly effective optical VR that works in tandem with IBIS in Z system full-frame cameras, plus a useful range of handling extras, ensures top-quality results time after time, with excellent consistency even in handheld shooting. When you need to nail the definitive moment in action, sports and wildlife photography, this is a lens you can count on, and for less than half the price of the Nikon Z 400mm f/2.8 TC VR S."
Pros:
Super-fast autofocus
Pro-grade build and handling
Excellent image quality
Cons:
Modest f/6.3 aperture
Necessarily big build
Pricey (but great value)
---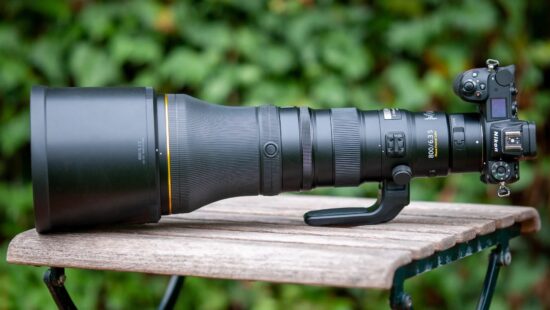 → CameraLabs published their review of the new Nikon Nikkor Z 800mm f/6.3 VR S lens:
"Nikon's Z 800mm f6.3 VR S is a very good super-telephoto which is smaller and much lighter and more affordable than rival lenses for sports and wild-life photography. The lens produces very sharp images with virtually no field-curvature or colour aberrations and can confidently be used wide open. Combined with Nikon's Z TC-1.4x teleconverter it still delivers sharp images but some acuity is lost. Its Bokeh is very nice and the optical image stabilization of 5 stops proves really helpful with the challenges of hand-holding an 800mm lens. This is also helped by being only half the weight of its predecessor, the AF-S 800mm f5.6E FL ED VR. All this makes the Z 800mm f6.3 VR S a unique lens which rightfully earns a Highly Recommended."
Good points:
Amazingly short and light for an 800mm f6.3 lens.
Very good resolution and contrast across the full frame.
Good image quality with Z TC-1.4x.
Very effective optical image stabilization.
Very good close-up performance.
Practically no longitudinal colour aberrations or purple fringing.
Only little vignetting and no distortions – through lens-profile.
Very little field-curvature.
Very nice Bokeh.
Weather sealing, multi function ring, function buttons, focus limiter.
Nice lens pouch.
Bad points:
Minimum object distance of 5m.
Relatively strong focus breathing.
Tripod foot is not Arca Swiss compatible.

→ Check also the latest 800mm lens review at Photographylife:
Pros:
Excellent optical performance in terms of vignetting, distortion, and chromatic aberration, and still very sharp
Very good autofocus capabilities despite being an f/6.3 lens
Excellent build quality with tight tolerances and no external moving parts
Advanced weather sealing that should survive anything other than a dunking
Nikon's most advanced handling features, control rings, and button options
Remarkably small and light for such an advanced 800mm lens
$6500 price is extremely competitive – thousands of dollars cheaper than it could have been
Cons:
Bokeh can be very distracting on backgrounds with specular highlights
Sharpness is not as high as the 800mm f/5.6E FL or some of Nikon's $10,000+ exotics
Close focusing distance of 5 meters / 16 feet forces you to back up when photographing nearby subjects
800mm is an unnecessarily long focal length for many subjects
Narrow f/6.3 maximum aperture means you'll constantly be raising your ISO
Tripod foot isn't Arca-Swiss compatible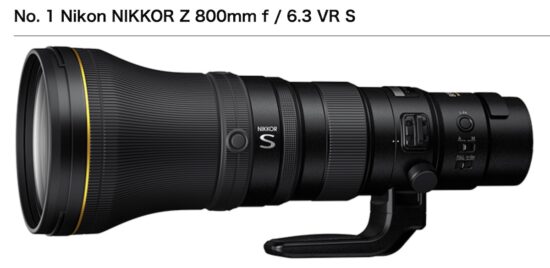 → The Nikkor Z 800mm f/6.3 lens is still the best selling lens at Yodobashi Camera.
→ Nikon Nikkor Z 800mm f/6.3 YouTube lens reviews:
---
Incredible Nikkor Z 800mm f/6.3 VR S lens field test with Nikon Z9 firmware update 2.0
Steve Perry's photos with the new Nikon Nikkor Z 800mm f/6.3 VR PF S lens
---
→ Nikkor Z 800mm f/6.3 VR PF S lens pre-order links: