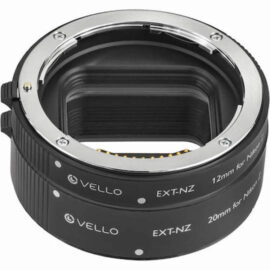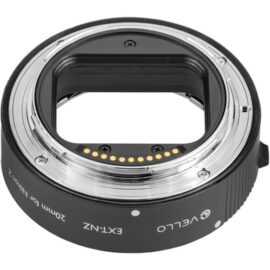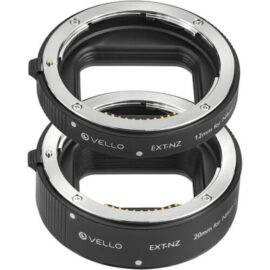 Vello announced a new EXT-NZ autofocus extension tube set for Nikon Z-mounts lenses. The price is $79.95 and B&H Photo currently has it in stock already. Additoional informtion:

This set of Auto Extension Tubes for Nikon Z-Mount Lenses from Vello makes it possible to capture close-up shots without requiring a macro lens, providing a practical solution for macro performance with less expensive, non-macro dedicated glass. The set includes a 12 and 20mm tube, which can be used individually or stacked together for greater control over decreasing the minimum focus distance of a lens. Extension tubes do not include any optical elements, so the image quality of the lens is not reduced. Electronic communication between body and lens is supported, so the convenience of autofocus and auto-exposure functions are maintained. In addition, image stabilization is maintained when using enabled lenses and cameras. This makes it easy to capture an image in the moment, without wasting time fiddling with camera settings.
These Vello extension tubes offer lightweight durability, with metal mounts that provide additional robustness that will stand up to switching between lenses and other tubes for long-lasting use.
Reduces minimum focusing distance of Nikon Z-mount lenses
Tubes can be used individually or combined for greater magnification
Maintains autofocus and auto-exposure
Maintains image stabilization in enabled lenses and camera bodies
Lightweight design
Durable metal lens mount
Provides Macro Capability
12 and 20 mm tubes