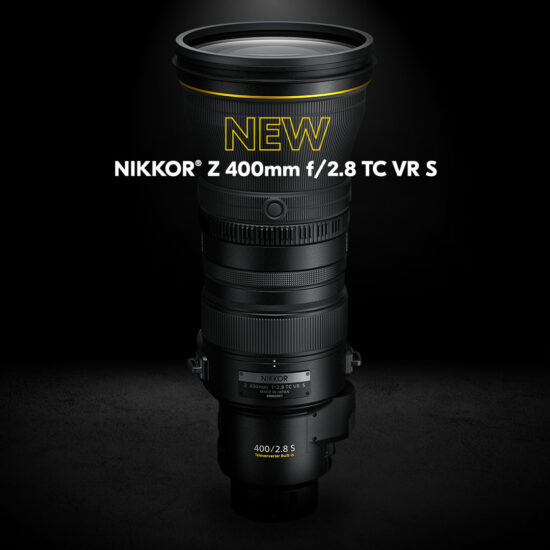 As already reported, the Nikon NIKKOR Z 400mm f/2.8 TC VR S mirrorless lens for Z-mount is now officially announced with a price tag of $14k and a new Meso Amorphous coating. Here are the details:
Employs a new coating, Meso Amorphous Coat, that provides the highest anti-reflection performance in NIKKOR history.
Adopts the newly developed Silky Swift VCM (SSVCM), which enables fast, highly accurate and quiet AF control.
Various aberrations, including chromatic aberration, are effectively compensated with the adoption of two ED glass elements, a super ED glass element, two fluorite lens elements, and an SR lens element, which also contributes to a lightweight body.
Features a built-in teleconverter that extends the focal length by 1.4x, allowing the lens to cover two focal lengths — 400 mm and 560 mm. The easily accessible teleconverter switch enables smooth changing of the focal length without changing shooting posture.
Consideration given to lighter weight with adoption of a fluorite lens element and magnesium alloy.
Supports an optical VR function with an effect equivalent to a shutter speed 5.5 stops faster, with a powerful effect regardless of whether the teleconverter is in use. Synchro VR is available when paired with the Nikon Z 9.
Superior dust- and drip-resistant performance is ensured by sealing adopted in various areas including movable parts of the lens barrel as well as a rubber gasket around the lens mount, while excellent anti-fouling performance is achieved with a fluorine coat on the surface of the front-most lens element.
The first NIKKOR Z lens to adopt the Memory Recall function, with which a frequently used focus position can be stored and quickly recalled by rotating the Fn ring.
Video recording is supported by incredibly quiet operation, focus breathing compensation that effectively reduces shifting of the angle of view when adjusting focus, and natural exposure changes when altering the aperture.
Adoption of a control ring enables smooth operation for comfortable video recording.
Supports use of the Z TELECONVERTER TC-1.4x and Z TELECONVERTER TC-2.0x.
MTF charts and lens design diagram:
THE NIKKOR Z 400mm f/2.8 TC VR S: A NEW PINNACLE OF PERFORMANCE FOR SPORTS, ACTION AND WILDLIFE SHOOTERS

Nikon's Latest S-Line Super-Telephoto Lens Goes the Distance with Breathtaking Image Quality and a Built-in 1.4x Teleconverter

MELVILLE, NY – Today, Nikon announced the NIKKOR Z 400mm f/2.8 TC VR S, a high performance super-telephoto prime lens for the Nikon Z system. This fast S-Line lens arrives just in time to complement the unstoppable potential of the Nikon Z 9, and opens creative possibilities for professionals photographing sports and wildlife where there is no room for compromise on extreme reach and incredible sharpness."Nikon's engineers continue to bring new and exciting advancements to image creators and working professionals. Immediately following the extraordinary response to the Z 9, the NIKKOR Z 400mm f/2.8 TC VR S lens features the latest technologies resulting from our expertise in optical engineering," said Jay Vannatter, Executive Vice President, Nikon Inc. "The customers for this lens often find themselves in situations where there is no second chance to get a shot; this lens takes full advantage of new technologies made possible by the Z mount and gives professional shooters an edge to capture the decisive moment with remarkable image quality, under any kind of light."

The NIKKOR Z 400mm f/2.8 TC VR S has unprecedented rendering capabilities, combined with a myriad of new optical technologies that enhance the image quality and performance. This lens features a constant f/2.8 aperture that provides stellar low-light capabilities as well as beautiful bokeh and subject isolation from the background. For extended reach, this is the first NIKKOR Z lens to utilize a built in 1.4x teleconverter to instantly increase the focal length to 560mm. This feature allows photographers to seamlessly adjust as an athlete moves downfield, or to capture environmental and close-up shots of nature without changing lenses or positions.

The NIKKOR Z 400mm f/2.8 TC VR S is the lightest lens of its type, engineered with superb balance, intuitive controls and weather sealing suitable for professional use. This lens is also the first to employ Nikon's newly developed optical technologies such as a Silky Swift Voice Coil Motor1 (SSVCM), enabling high-speed, high accuracy AF with near-silent operation. This new S-Line lens also features Nikon's new Meso Amorphous Coat, which offers the highest anti-reflection capabilities in NIKKOR history.

Pricing and Availability

The NIKKOR Z 400mm f/2.8 TC VR S lens will be available in late February 2022 for a suggested retail price (SRP) $13,999.95*.
Main specifications:
Model
Nikon Z mount
Focal length
When not using the built-in teleconverter: 400 mm When
using the built-in teleconverter: 560 mm
Maximum aperture ratio
When not using the built-in teleconverter: 1: 2.8 When
using the built-in teleconverter: 1: 4
Lens configuration
25 elements in 19 groups (including 7 elements in 4 groups of built-in teleconverter, 2 ED lenses, 1 super ED lens, 2 fluorite lenses, 1 SR lens, meso-amorphous coat, alneo coat, on the front lens surface Fluorine coating available)
Angle of view
When the built-in teleconverter is not used: 6 ° 10′(imaging range FX)
When the built-in teleconverter is used: 4 ° 30′(imaging range FX)
When the built-in teleconverter is not used: 4 ° (imaging range DX)
When the built-in teleconverter is used: 2 ° 50 ′ (Image pickup range DX)
Image stabilization
Lens shift method with voice coil motor (VCM)
Image stabilization effect: 5.5 steps * CIPA standard compliant
VR mode: NORMAL / SPORT
Image stabilization when using a tripod: Yes
Shortest shooting distance
2.5m
Maximum shooting magnification
0.17 times
Number of diaphragm blades
9 sheets (circular aperture)
Aperture method
Automatic aperture with electromagnetic aperture
Maximum aperture
When not using the built-in teleconverter: f / 2.8 When
using the built-in teleconverter: f / 4
Minimum aperture
When not using the built-in teleconverter: f / 22 When
using the built-in teleconverter: f / 32
Focus limit switch
Two-stage switching between FULL (∞ to 2.5m) and ∞–6m
Attachment size (filter size)
46mm (built-in type)
Size
Approximately 156 mm (maximum diameter) x 380 mm (from lens mount reference surface to lens tip)
mass
About 2950g
accessories
• Lens cap LC-K105
• Back lid LF-N1
• Lens hood HK-42
• Strap LN-3
• Lens case CL-L3
About the new Meso Amorphous Coat:
"Meso Amorphous Coat* realizes the highest anti-reflection performance in NIKKOR history. Meso Amorphous Coat provides an effect superior to that of Nano Crystal Coat for diagonal incident light, and an effect equivalent or superior to ARNEO Coat for vertical incident light. With its superb performance, ghost and flare caused by incident light from various directions are noticeably reduced, delivering clear images even under harsh conditions.  *With this coating system, amorphous particles, that are even smaller than nano particles, are utilized to create even more gaps within the coating to form an ultra-fine mesoporous structure, attaining a lower refractive index. In addition, a higher-precision base coat is employed to further enhance the anti-reflection effect."